Lake Senftenberg
Lake Senftenberg is the number one family destination in the Lusatian Lakeland. Seven kilometres of well-maintained sandy beaches and sunbathing lawns are ready and waiting to make holiday dreams come true. There are also separate, designated areas for nudists and for visitors with dogs. This former lignite mining site is now firmly established as a popular leisure destination.
Water sports activities such as sailing, windsurfing and stand-up paddle boarding attract novices and experts alike. If you like a bit of speed, you can also take a motorboat for a spin on the lake.
Alternatively, you can board one of the local sightseeing boats and enjoy the views across the water and the leafy shores at a more leisurely pace. A lock and the navigable Koschen Canal connect Lake Senftenberg with Lake Geierswalde. Lake Senftenberg is also popular for fishing and diving.
The 18km loop trail around the lake is family-friendly and offers access to a variety of sights and activities along the way. Most of the path is surfaced and flat and takes cyclists and walkers past a number of marinas and viewpoints. If you need a little rest, there are plenty of restaurants and snack bars dotted around the lake. And for young adventurers, there are many playgrounds to explore along the route.
Lake Senftenberg was created by flooding the former Niemtsch lignite mine, a process which was completed in 1972. A 250-hectare island was artificially created within Lake Senftenberg. It is covered in forest and has been a nature conservation area since 1981. This island is not open to the public.
Facts and figures
Size of the lake: 1,300 ha
Max. depth: 25 metres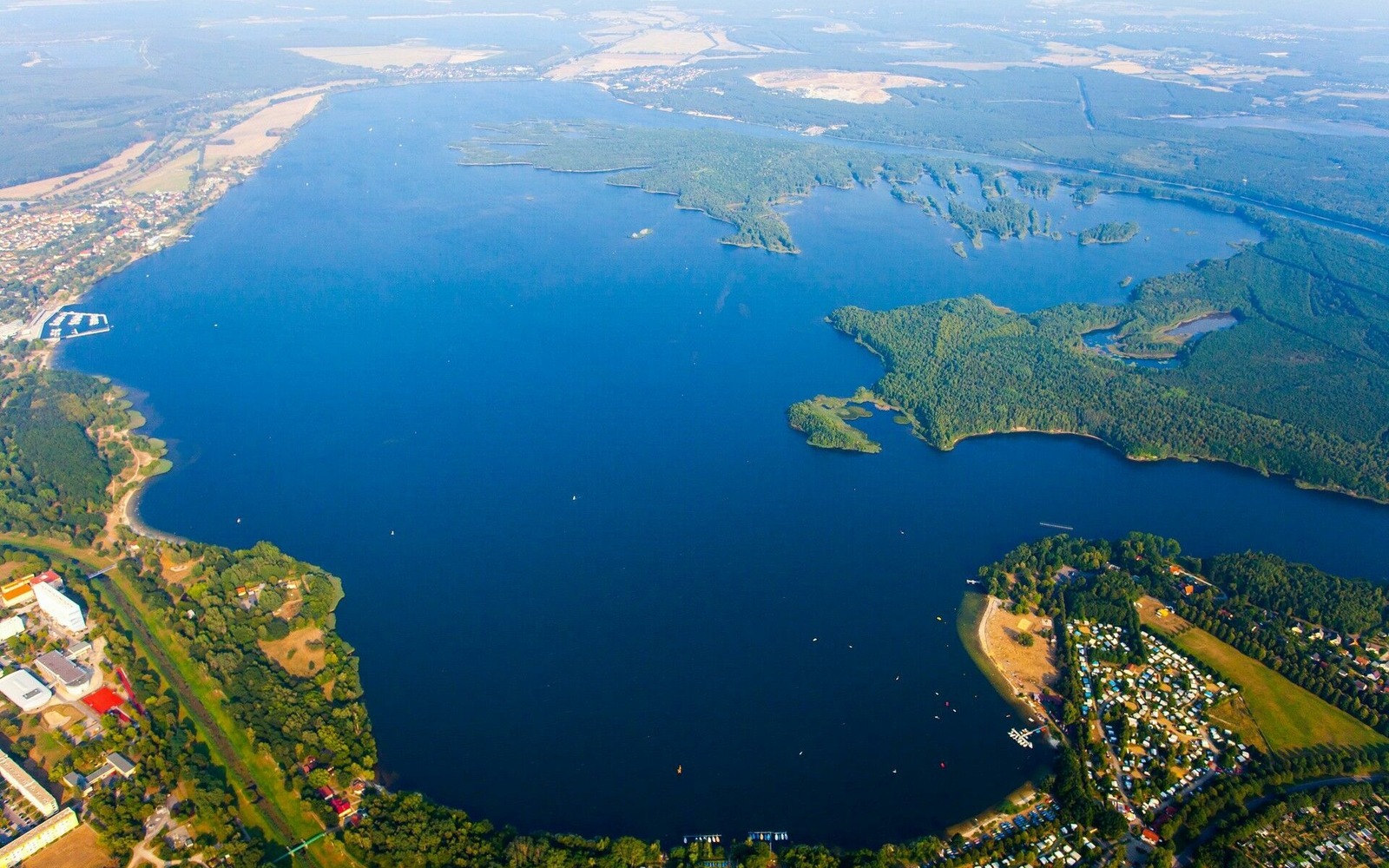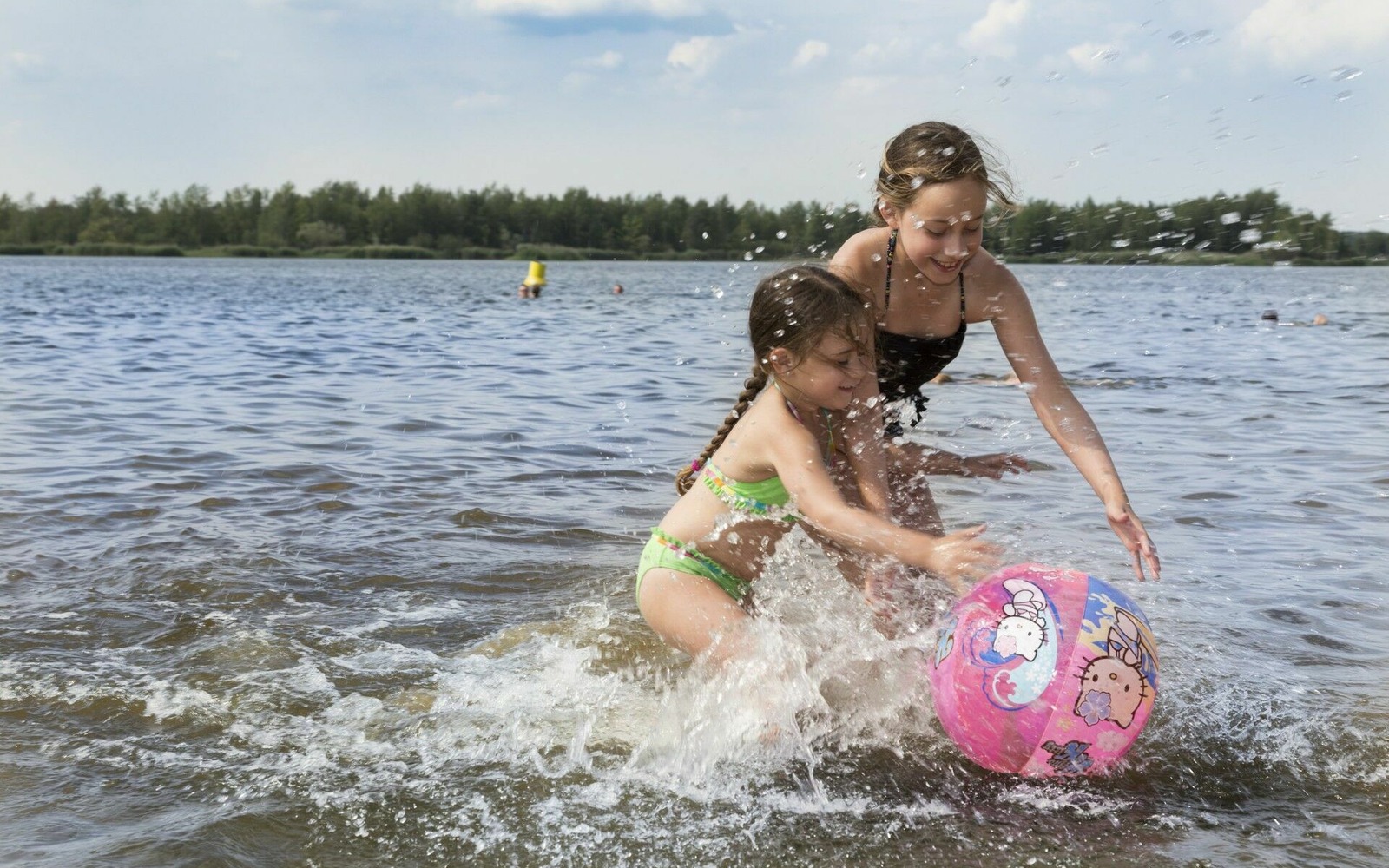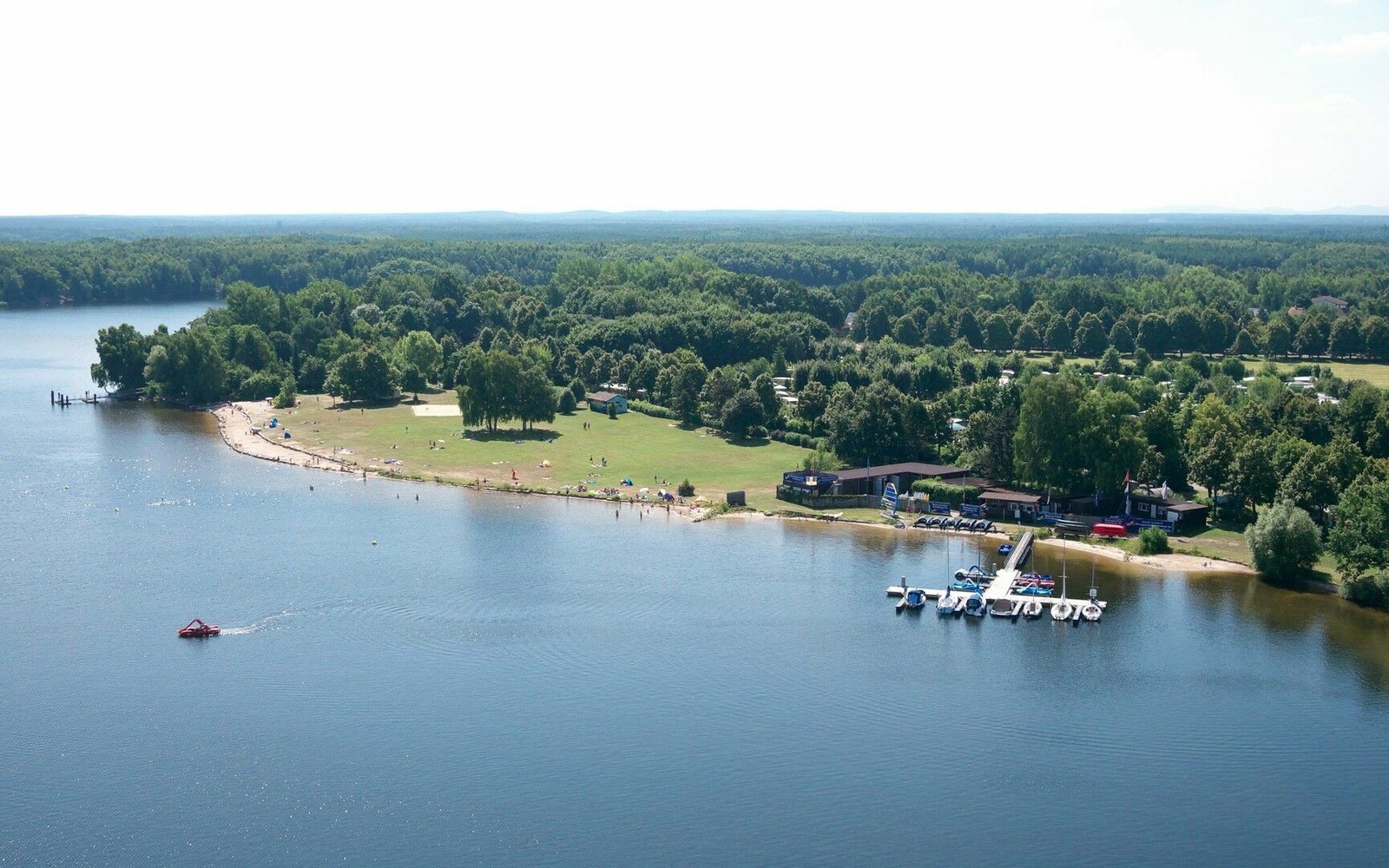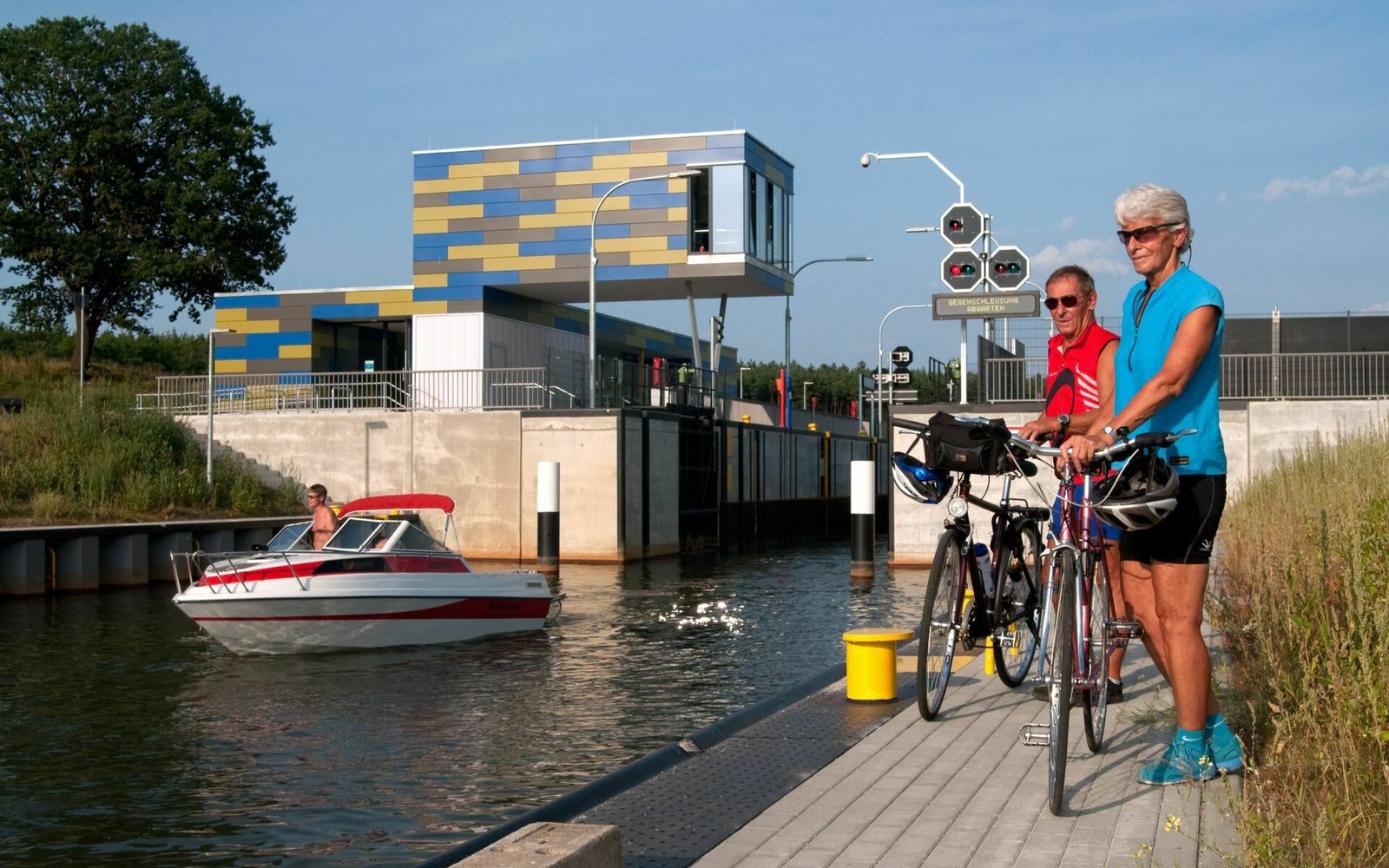 Water sports
Fishing, bathing, paddling, rowing, canoeing, passenger boating, motor boating, rafting (motorised), pedal boating, sailing, surfing, diving (South Sea)
Water tourism activities are permitted between 1 April and 31 October.
Fishing, bathing and diving are permitted all year round.
Swimming
Lake Senftenberg has seven kilometres of swimming beaches located in Großkoschen, Peickwitz, Niemtsch, Senftenberg and Buchwalde. Some of these are designated as nudist beaches or beaches for visitors with dogs. Buchwalde beach has a water slide (access subject to an entry fee). The water quality is excellent and is confirmed annually through the award of the Blue Flag environmental certification.
Water rescue services operate on and around Lake Senftenberg between 15 May and 15 September. In low season (15 May to 30 June and 1 September to 15 September), the lifeguard station is manned on weekends only. In high season (1 July to 31 August), lifeguards are on site every day. Lifeguards are on duty between 10am and 6pm.
Water sports providers
Harbours and marinas
Senftenberg marina (150 berths on water)
Niemtsch sailing marina (137 berths on land)
Lake Senftenberg marina camp in Grosskoschen (51 berths on water, 67 berths on land)
Service information
Parking available in Grosskoschen, Peickwitz, Niemtsch, Senftenberg and Buchwalde (charges apply)
Toilets, showers and changing rooms are available on the swimming beaches in Grosskoschen, Niemtsch and Buchwalde
Barrier-free toilets at the city harbour, Buchwalde lake beach, Großkoschen lake beach, harbour camp, Südsee lake beach, Südsee school hostel and Niemtsch lake beach
Wi-Fi access at various locations around the lake
Leisure facilities and activities
Numerous playgrounds all around Lake Senftenberg, e.g. at Senftenberg marina, in Senftenberg town, in Grosskoschen and in Niemtsch
Barbecue area on Buchwalde beach (booking required); campfires and barbecues with own equipment are not permitted on Lake Senftenberg
18km loop trail around the lake, suitable for cycling and running
Amphitheatre in Grosskoschen
Viewing tower on the southern lakeshore (32 metres high)
Bikes can be hired at various places around the lake, e.g. at Senftenberg marina, at the family park and at the marina camp in Grosskoschen
Various sports events (running, beach volleyball, water sports, tower race), annual marina festival in Senftenberg, beach parties
Food and drink around Lake Senftenberg
Restaurant and café Pier 1 and snack bar at Senftenberg town harbour
Restaurant at the Strandhotel between Senftenberg and Buchwalde
Restaurant Brasserie with lakeside terrace in Buchwalde
Hof-Café at the Seenlandhof
Restaurant and Café Seelounge, Restaurant Strandidyll, Eiscafé Seeterrasse & Havanna Bar in Großkoschen
il Massimo on the lake
snack bar at the observation tower and lakeside beach "Südsee" (in summer)
Niemtscher Mühle (Syrtaki Restaurant), beach bar and snack bar in Niemtsch
Zur Schleuse" snack bar on the Koschen Canal
Accommodation and camping at Lake Senftenberg
Senftenberger See Family Park, Senftenberger See Harbour Camp, Ferienhof Radlerslust, Eden Beach House, Bett & Bike Eden, Goller Holiday Apartments, etc. in Großkoschen
Lake Senftenberg comfort camping site in Niemtsch
Strandhotel, Hotel Lido, Wellnesshotel Seeschlösschen, Seenlandhof in Senftenberg
Motorhome site in Buchwalde
Camping site in Niemtsch
Further information
Zweckverband Lausitzer Seenland Brandenburg
Straße zur Südsee 1
01968 Senftenberg OT Großkoschen
Telefon: 03573-800300
Fax: 03573-800331
E-Mail: verbandsleitung@zweckverband-lsb.de
Web: www.zweckverband-lsb.de
Diese Karte kann nicht von Google Maps geladen werden, da Sie in den Datenschutz- und Cookie-Einstellungen externen Inhalten nicht zugestimmt haben.