Voigt Marine – Boat Rental in the Town Harbour of Senftenberg
The boat and houseboat rental offers a wide selection of charter motor boats and houseboats on Lake Senftenberger See. From Senftenberg town harbour the entire lake network is accessible. Explore Lake Senftenberger See and Lake Geierswalder See, which are connected by the Koschen Canal, by charter motorboat. The motorboats are very easy to drive and do not require a driving licence, making it possible for everyone aged 16 or over to go on a motorboat trip with friends or family.

Charter boats at a glance

Corsiva 520 Classic motor boat with 8 or 15 horsepower

The open motor boat has space for a maximum of 5 people. The fold-out roof protects against sun, wind and rain. Table and seat upholstery are included on board. The motor boats with 8 horsepower do not require a driving licence and can be steered by anyone aged 16 or over with no previous knowledge required. The motor boats with 15 horsepower do not require a driving licence, but as they are more difficult to steer a boating licence or proof of boating experience is desired.

Corsiva 475 Sport powerboat 8 horsepower

The open cruising motor boat for up to 5 people is comfortable and perfect for chilling and sunbathing on. The motor boats do not require a boating licence and can be steered by anyone aged 16 years or over without no previous knowledge.

Meganline 450 motor boat 15 and 30 horsepower

The open speed motor boat is suitable for a maximum of 6 people. The sunbathing areas in the bow enable pleasant sunbathing while out on the water. A fold-out ladder also making bathing easy. There is naturally also a fold-out sunshade over the helmstand. The motor boats with 30 horsepower can only be rented subject to presentation of a valid boating licence.

Pontoon boat Funcruiser 15 horsepower

The Funcruiser 6.5 is a pontoon boat that is stable and causes little swell. It is ideal for company events and family outings as a party and excursion boat for a maximum of 12 people. The boat is rented without a skipper. The boat can only be rented subject to presentation of a valid boating licence.

Houseboat

The licence-free, modern bungalow houseboat can accommodate 8 people and has a spacious veranda and camping furniture. The houseboat engine is an economical 8 horsepower 4 stroke Honda engine. The houseboats are also suitable as party and grill boats. A maximum of 4 adults or 2 adults with 2 to 3 children can stay overnight on board. It is also possible to stay overnight on a houseboat in the town harbour of Senftenberg with toilet and shower key access, and in the harbour at Lake Geierswalder See for a mooring fee.
A heater for the houseboat and a Weber grill can be rented for an additional charge. The minimum age for renting is 21. Enjoy your own private sunset and other special moments on the lake.

Additional offers: pedal boat rental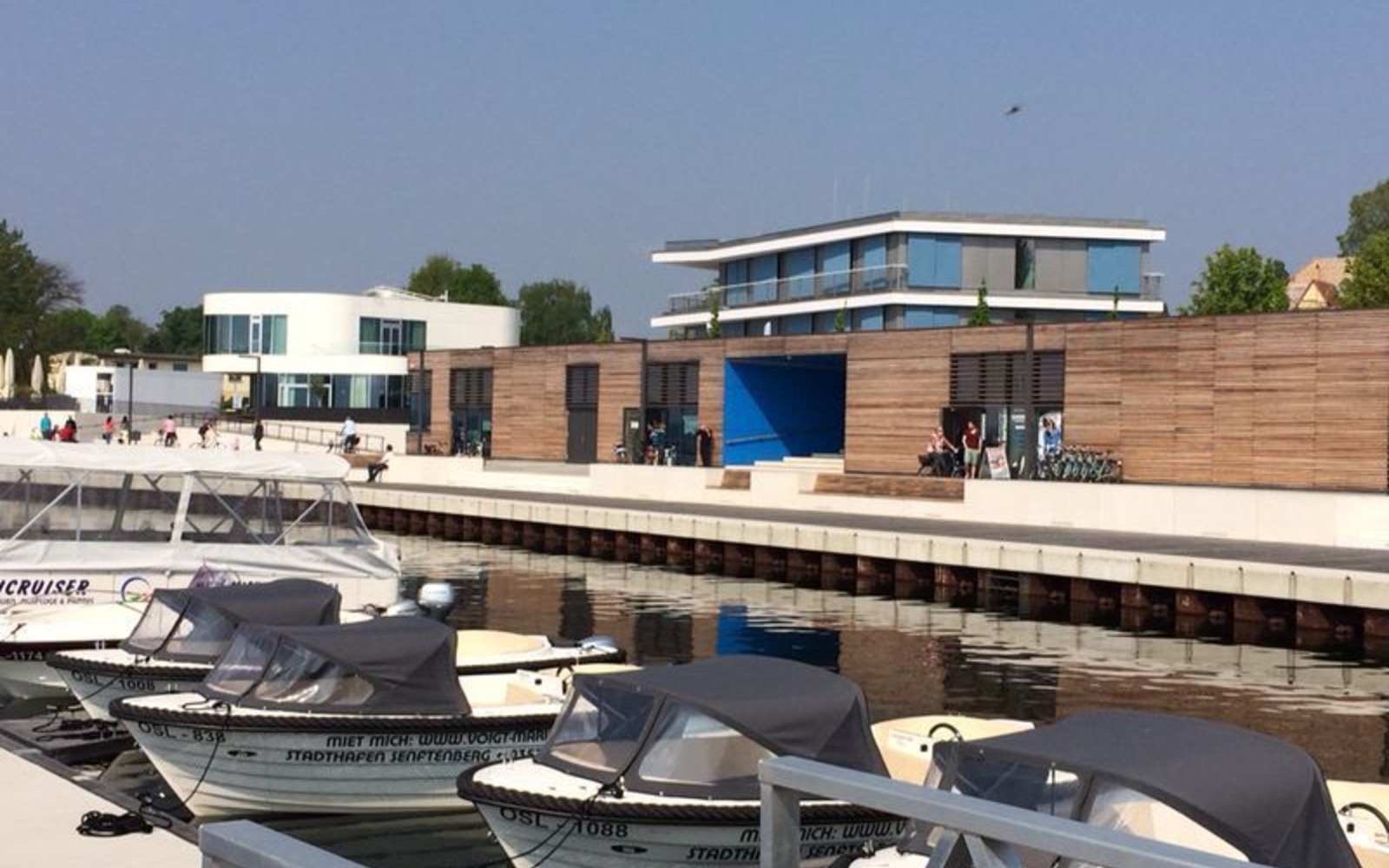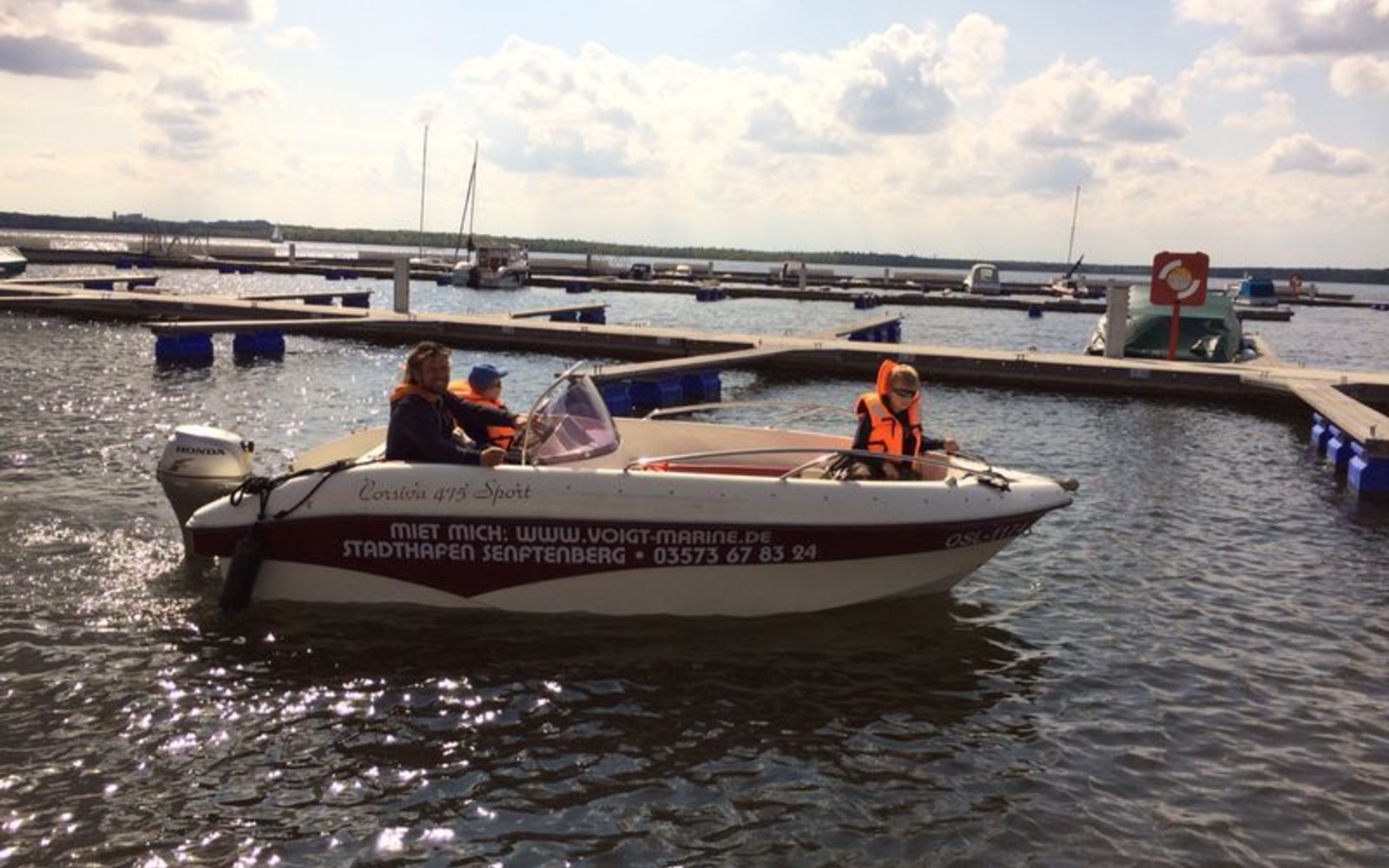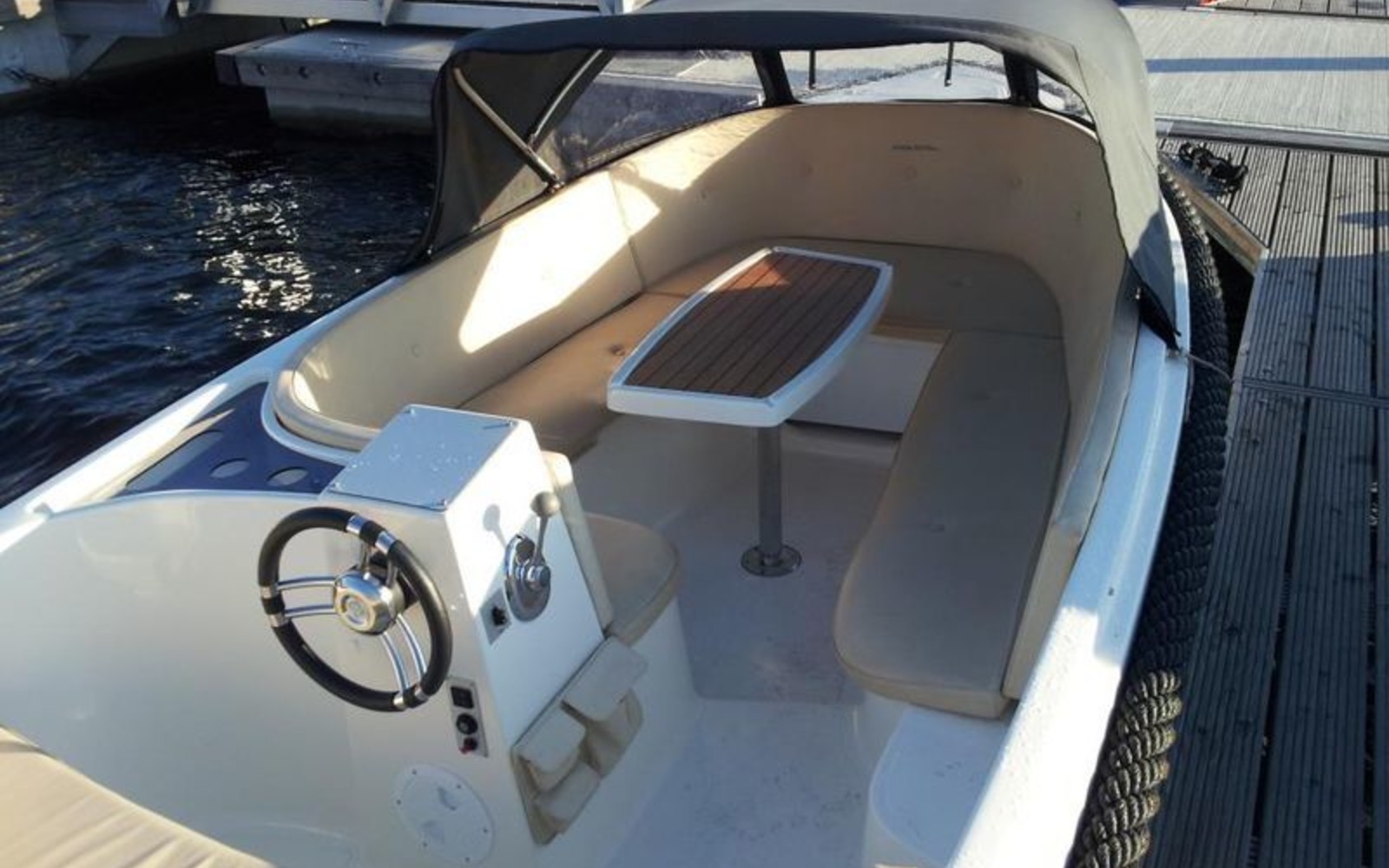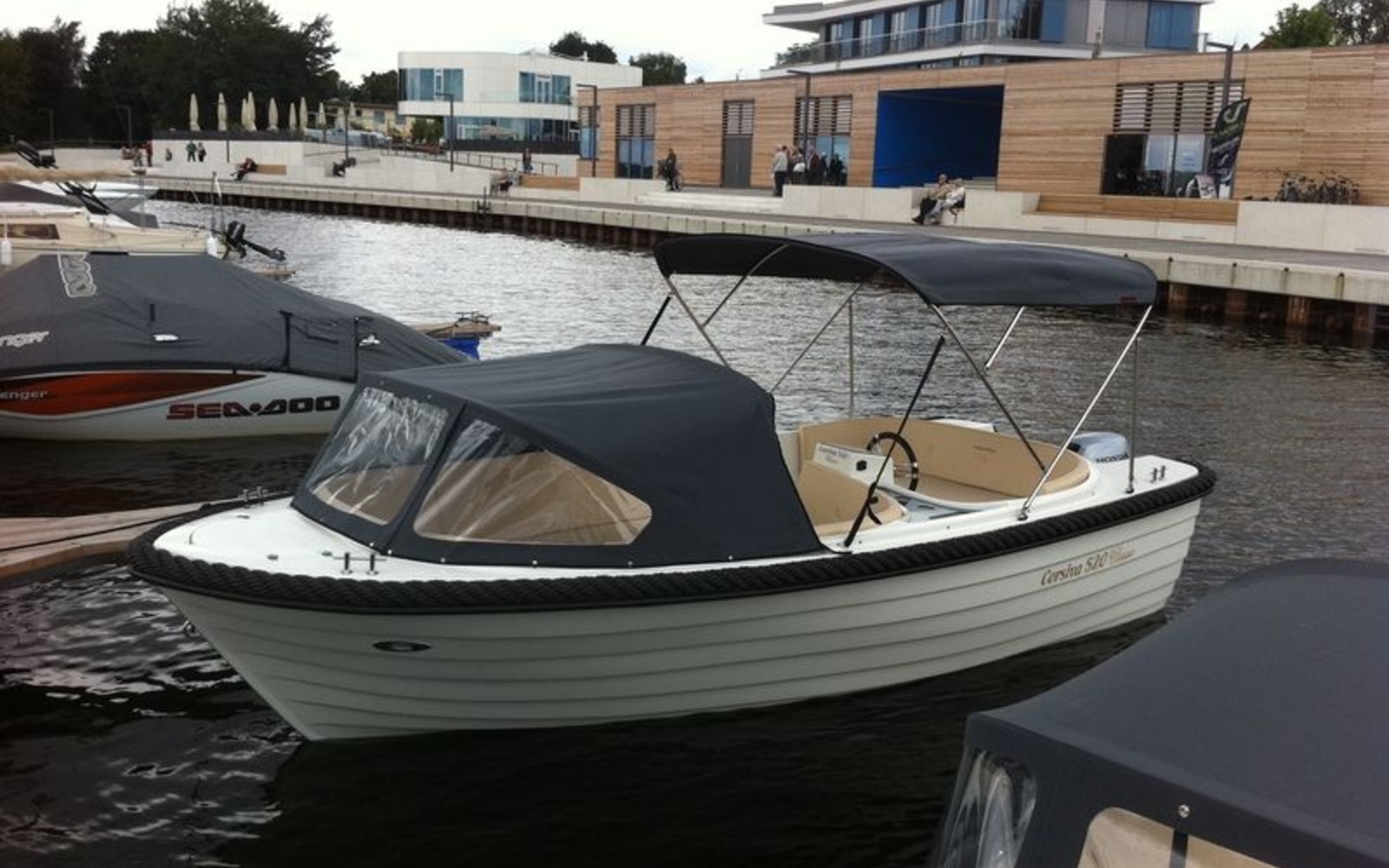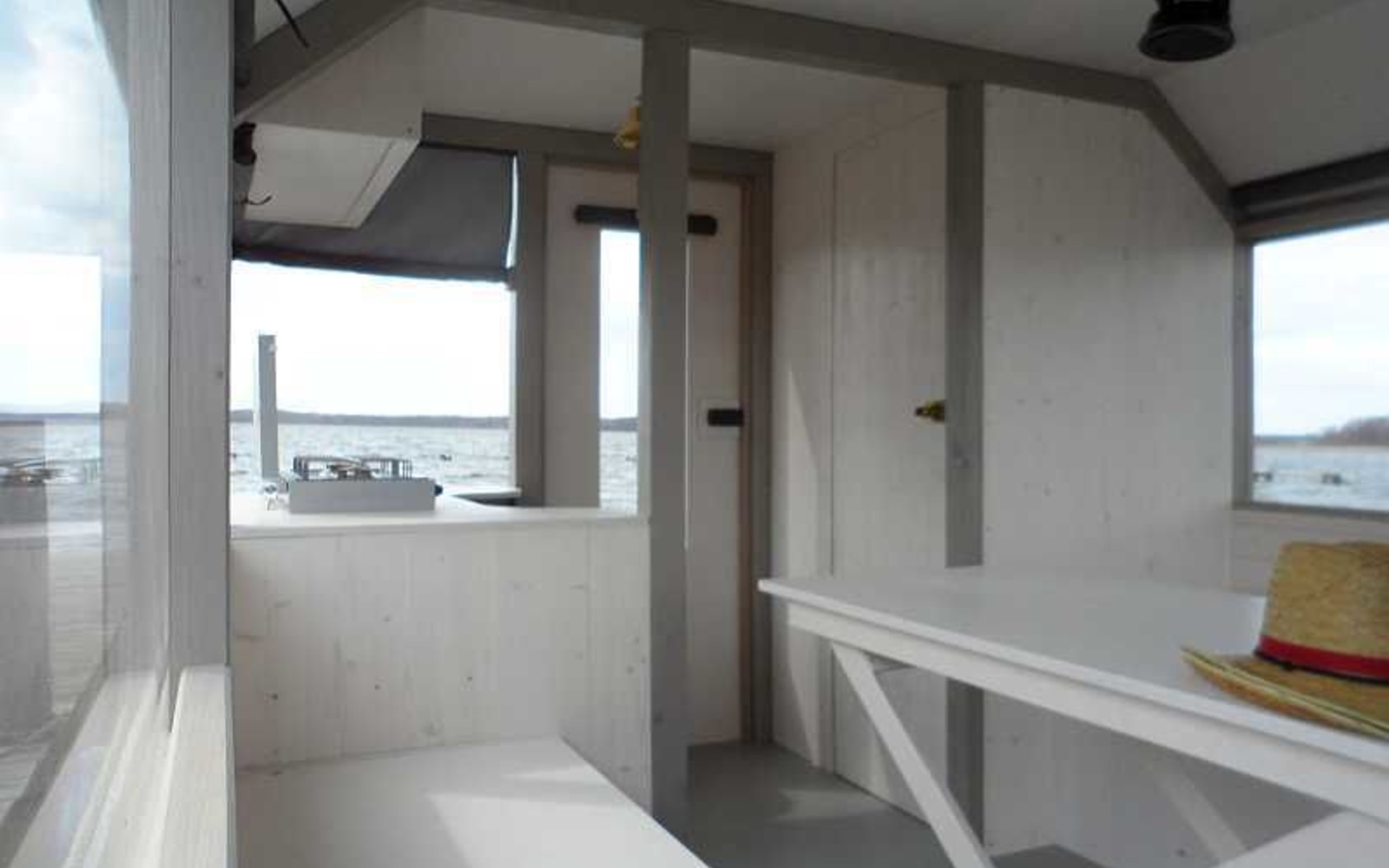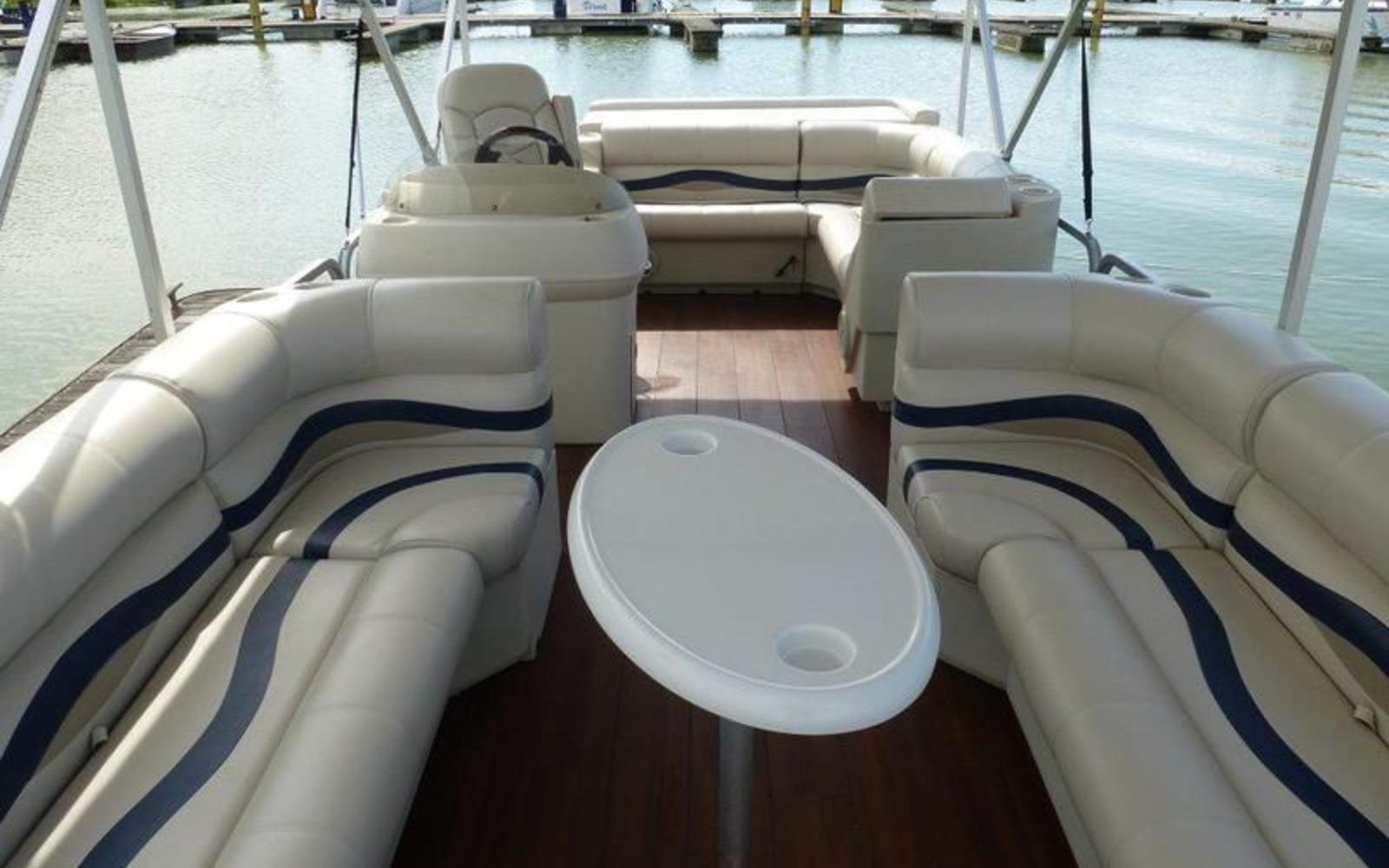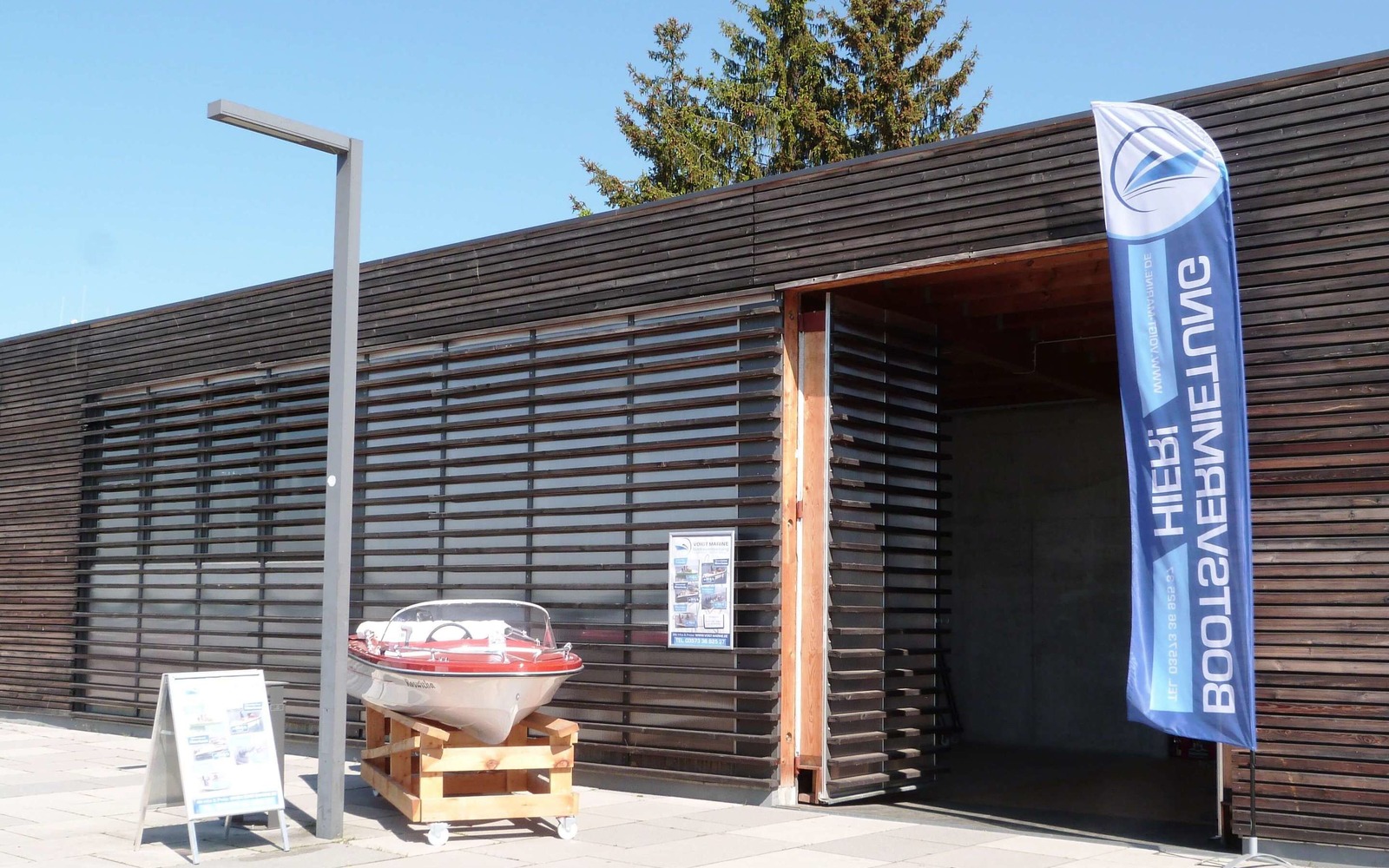 Opening times
In good weather and on public holidays also open longer.
01.04. to 30.04.
Prices
ab 90,00 EUR
Pontoon boat Funcruiser with 15 hp boat motor, boating experience necessary, without skipper
for up to a maximum of 12 people for 2 hours plus petrol according to consumption
ab 35,00 EUR
Corsiva 520 Classic powerboat with 5-15 hp, licence free
for 5 persons for 1 hour including petrol
ab 169,00 € EUR
Driving licence free, modern bungalow houseboat with veranda & barbecue
for 8 persons 1 day (8 h) plus fuel according to consumption
The rental price includes life jackets for children, rowing paddles, a fire extinguisher and a first-aid kit. A deposit of between Euro 100 and 250, depending on the boat, must be paid in cash.
Address
Voigt Marine - Bootsvermietung am Stadthafen Senftenberg
Stadthafen 4
01968 Senftenberg
Diese Karte kann nicht von Google Maps geladen werden, da Sie in den Datenschutz- und Cookie-Einstellungen externen Inhalten nicht zugestimmt haben.