Expeditours - motorboat, raft and houseboat rental at Lake Senftenberg
The Lusatian Lakeland with its new lakes and canals is wonderful to explore by boat.
This can be done in a very relaxed way, especially with motorboats, rafts and houseboats, which can be rented from EXPEDITOURS at the harbour camp on Lake Senftenberg. The boats (most of which do not require a boating licence) can be safely manoeuvred even by amateur captains after a short introduction.
Lake Senftenberg can be explored in 2 hours, for the round trip to Lake Geierswalde 4 hours are to be planned and with the detour to Lake Partwitz the day trip is perfect.

The modern motor boats, which can accommodate up to 6 people, can be rented by the hour. Rain and sun protection ensure relaxation in all weathers.

The rafts and houseboats offer space for up to 8 people and can be booked for half-, full- and multi-day tours. If you like, you can book a barbecue and tableware for special occasions with family and friends. The stable structure offers weather protection and a rustic overnight accommodation for up to 4 people. There are several harbours where you can moor and spend the night. So nothing stands in the way of an adventure on the water.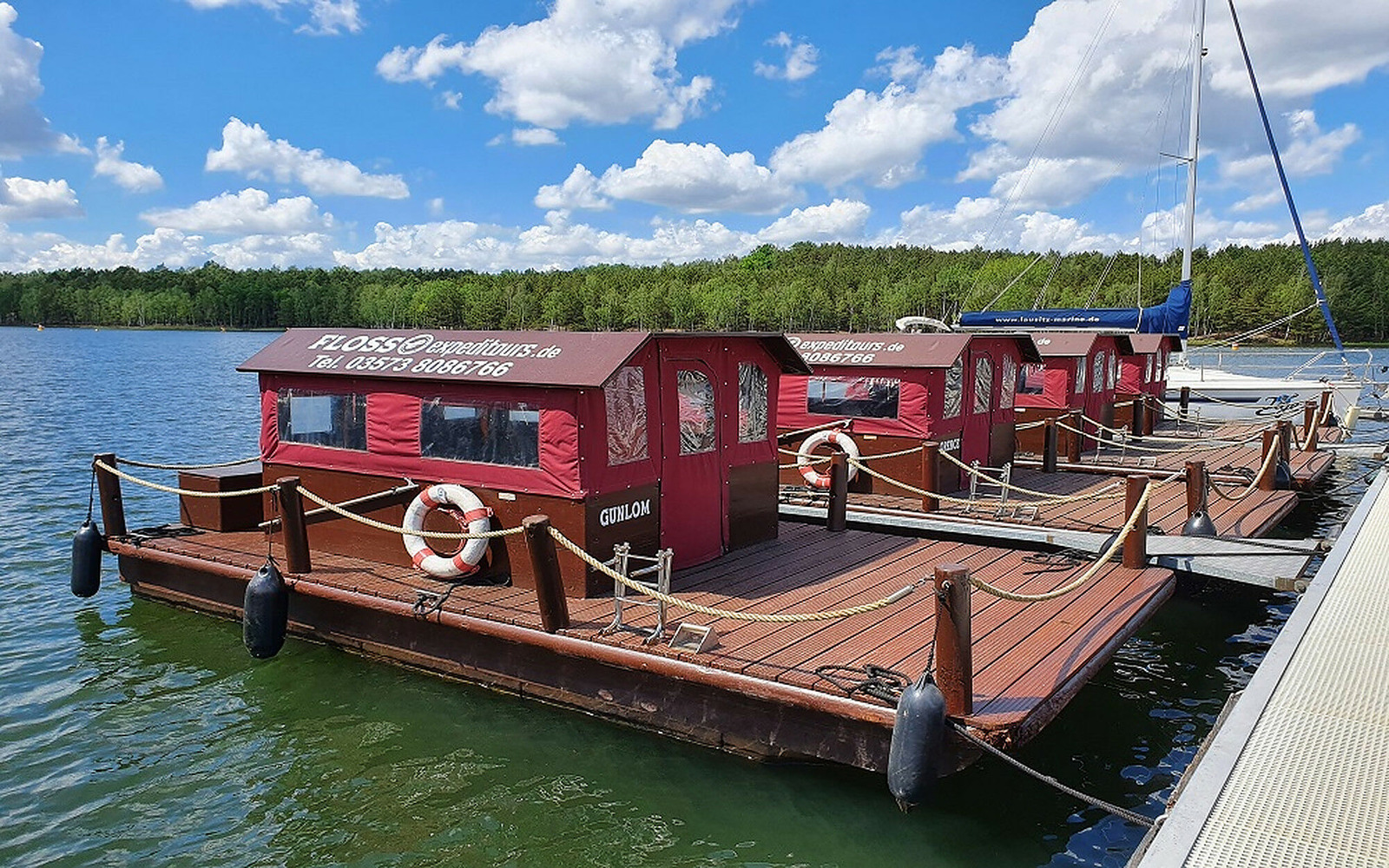 Opening times
01.04. to 30.04.
Prices
ab 85,00 EUR
Motorboot 15 PS
führerscheinfrei und inkl. Benzin
ab 120,00 EUR
Kajütboot 25 PS
Bootsführerscheinpflichtig und zzgl. Benzin
ab 145,00 EUR
Floß
führerscheinfrei und inkl. Benzin
ab 170,00 EUR
Hausboot
führerscheinfrei und inkl. Benzin
More prices are on the website.
Accessibility
Information for guests with mobility impairments
Certificates
Family-friendly
Address
Expeditours - Motorboot-, Floß- und Hausbootvermietung am Senftenberger See
Bootshaus, Hafencamp Senftenberger See
Straße zur Südsee 2
01968 Senftenberg OT Großkoschen
Diese Karte kann nicht von Google Maps geladen werden, da Sie in den Datenschutz- und Cookie-Einstellungen externen Inhalten nicht zugestimmt haben.