Lake Geierswalde
Lake Geierswalde is located in the middle of the future lake network. It is connected to Lake Senftenberg via the navigable Koschen Canal, and since 2019 there has also been a navigable connection to Lake Partwitz via the Barbara Canal. This means that motorboats and sailing boats can sail from Lake Senftenberg via Lake Geierswalde into Lake Partwitz.
Lake Geierswalde offers a wide range of water sports. The good winds on Lake Geierswalde have long since ceased to be an insider tip. That's why more and more sailors and (kite) surfers find themselves on the lake. Holidaymakers can also set sail by motorboat. In designated areas, water skiing and wakeboarding can be done behind the motorboat. At the bathing beach, holidaymakers can splash around in the water to their heart's content, hire pedal boats or glide across the lake while stand-up paddling. A trademark are the floating holiday homes, which offer a very special holiday feeling. On the southern slope of Lake Geierswalde is the water hiking rest area and the sailing and inclusion centre of the 1st Lausitzer Seenland e.V. water sports association. The development of further tourist infrastructure and facilities is planned for the Koschendamm on the eastern shore.
The 16-kilometre lake circuit is suitable for cycling, skating and running.
Lake Geierswalde was created until 2013 by flooding the former Koschen open-cast lignite mine. Lake Geierswalde has been usable since 2003.
Facts and figures
Size of the lake: 653 ha
Max. depth: 34 metres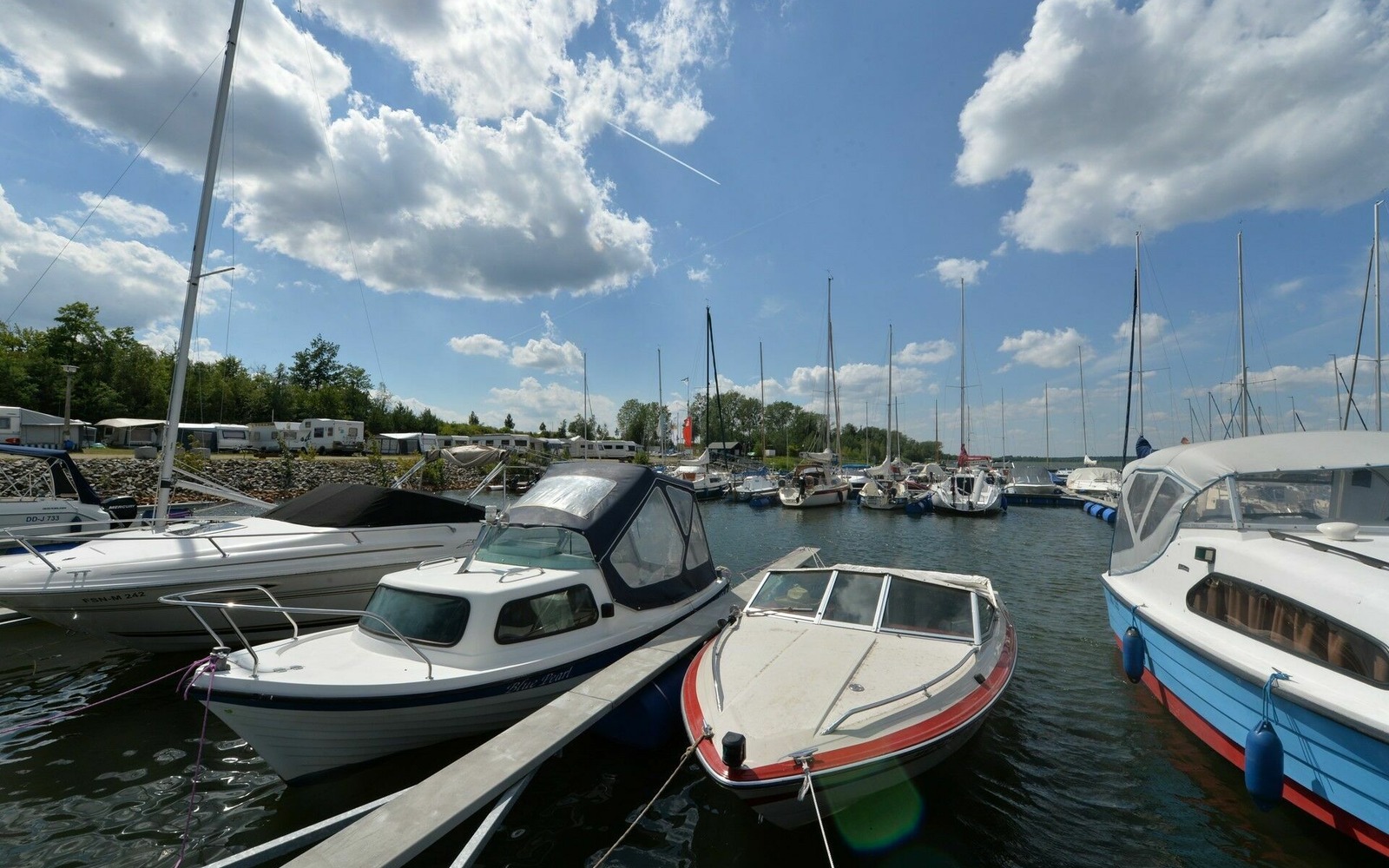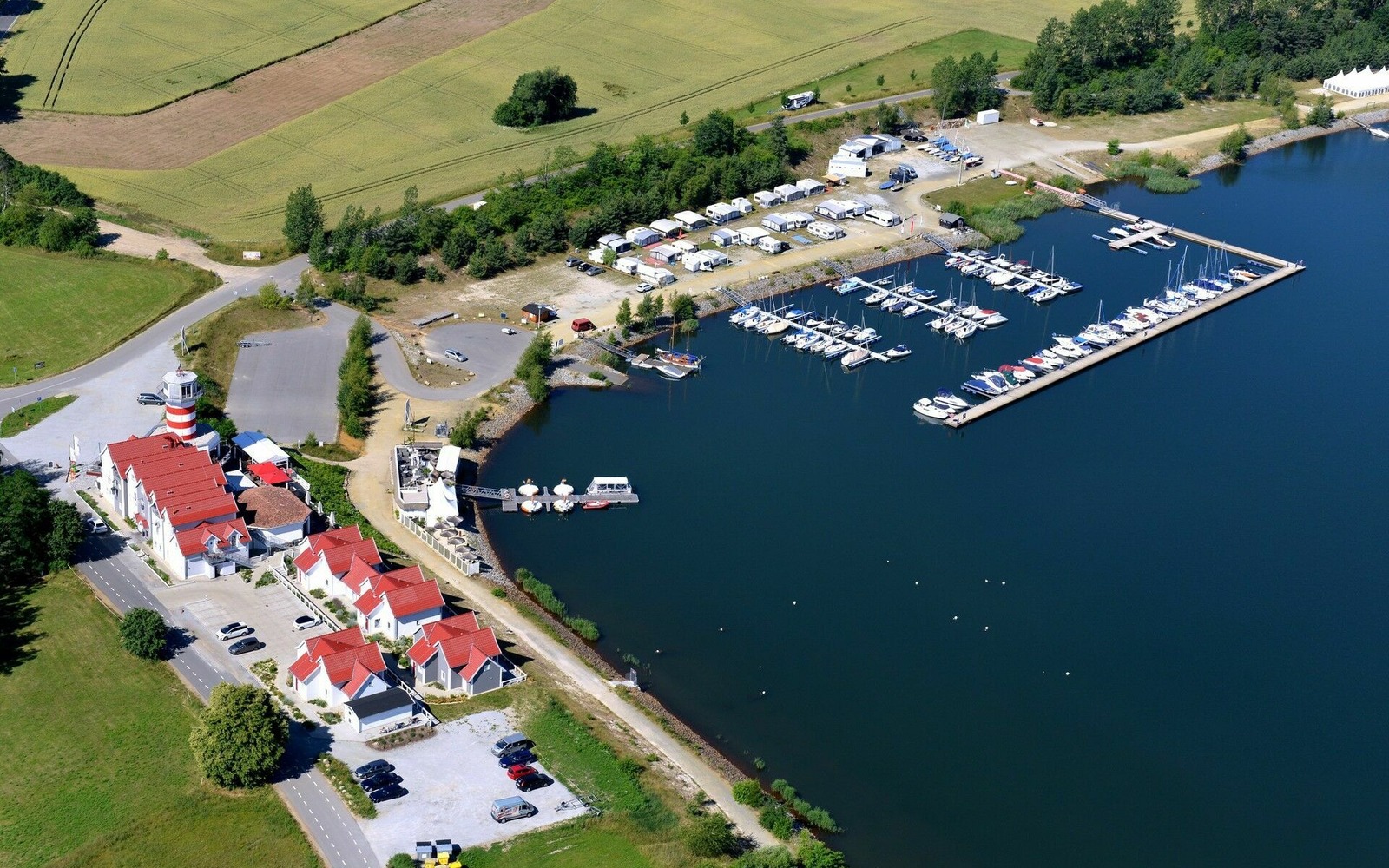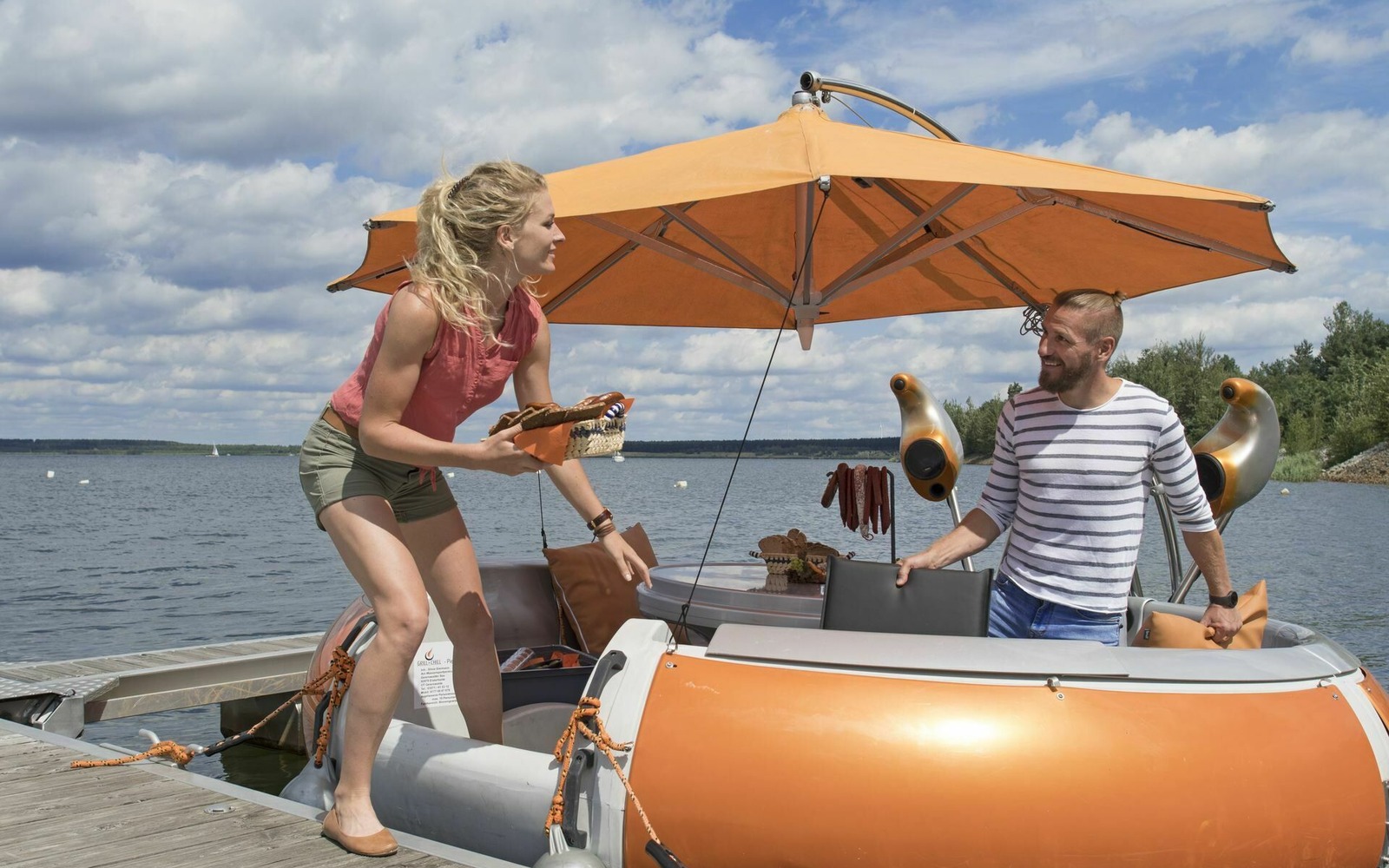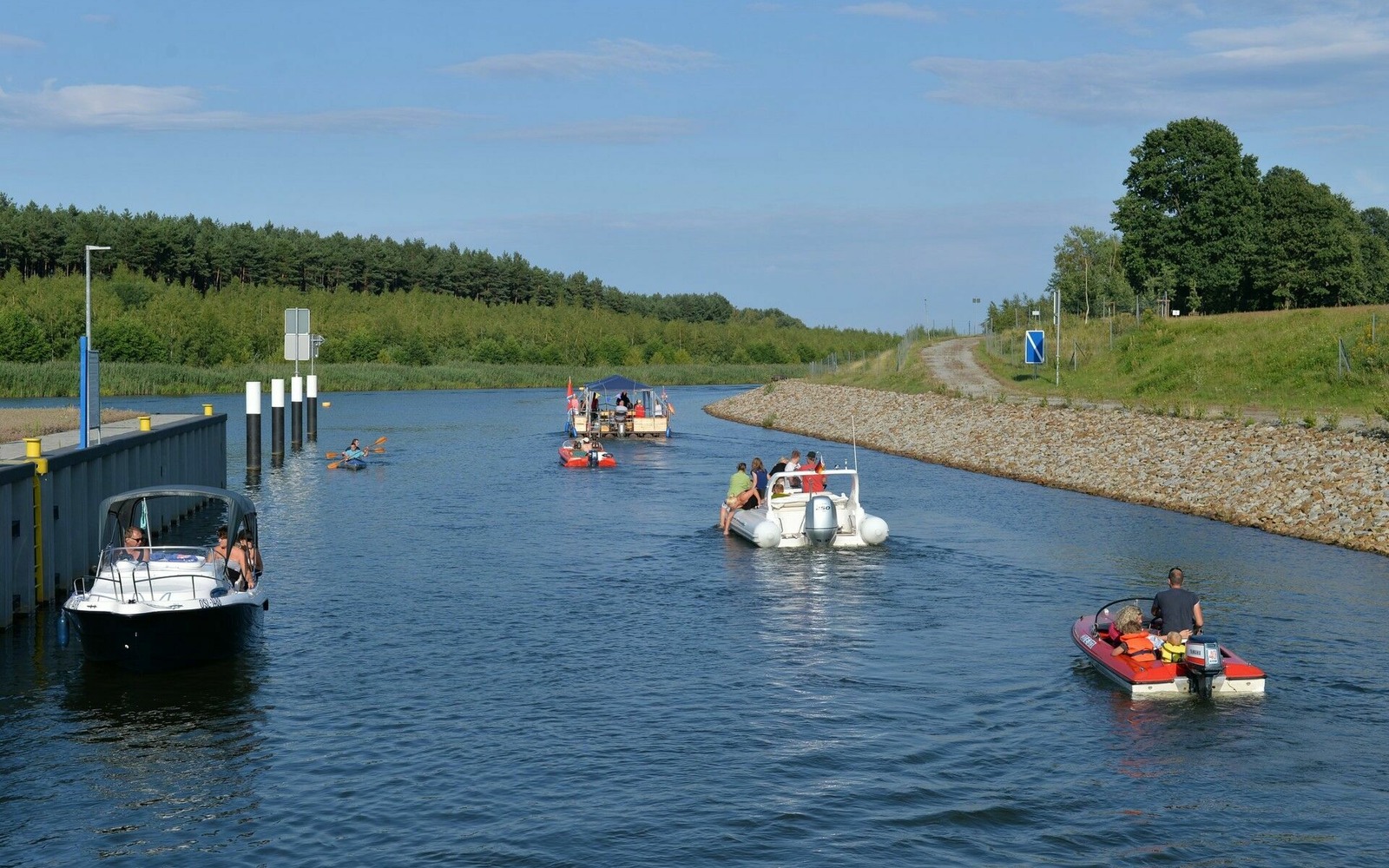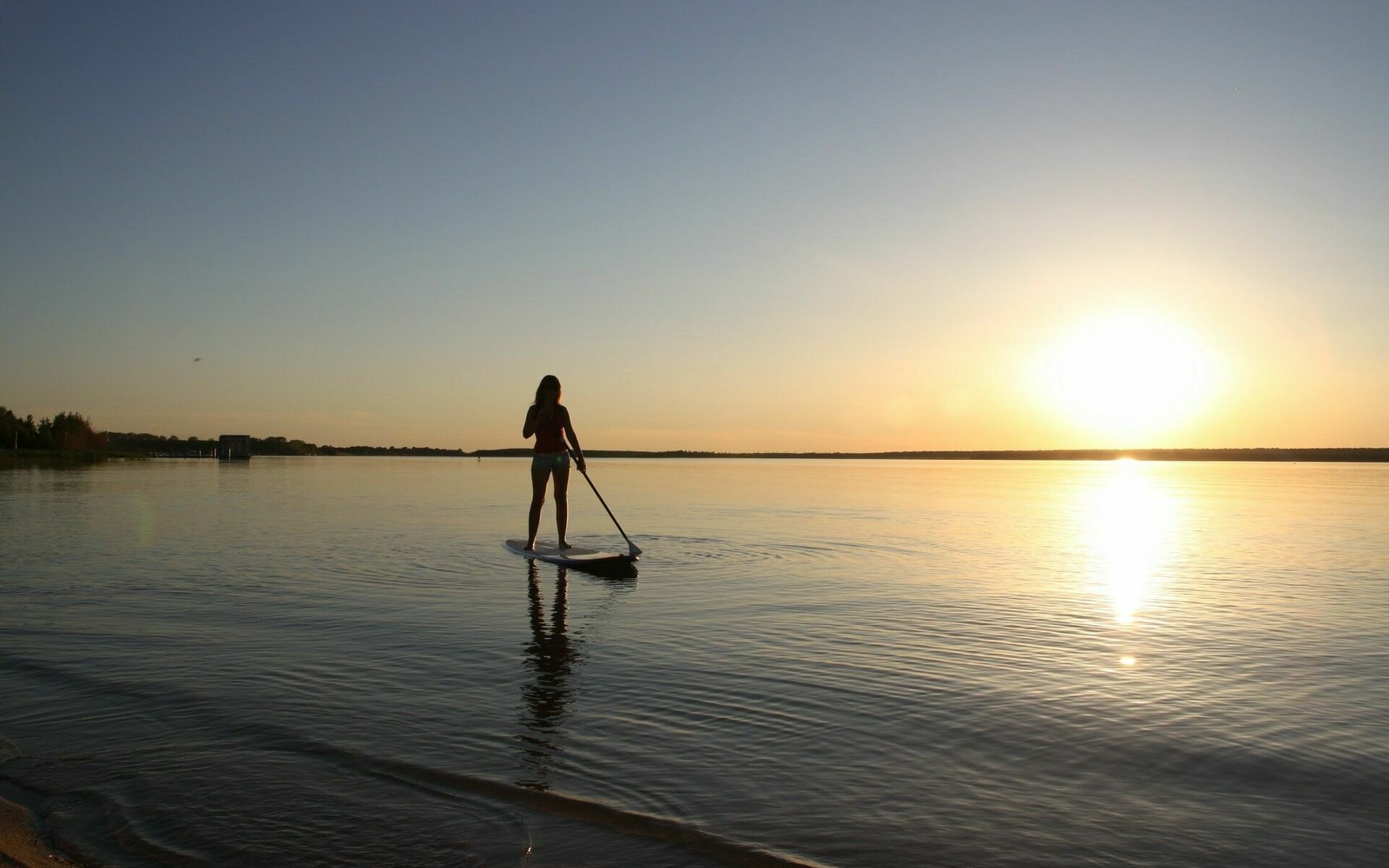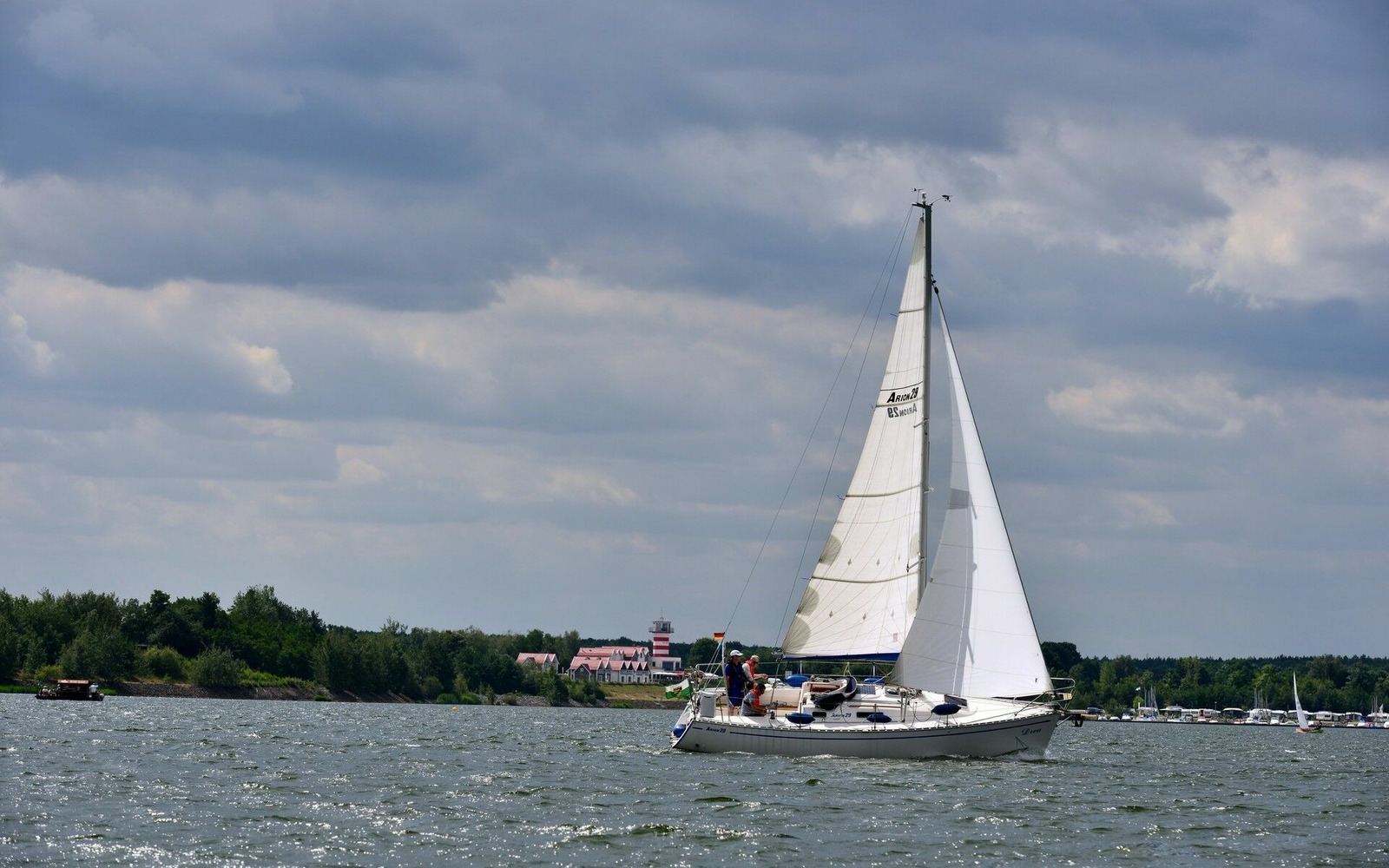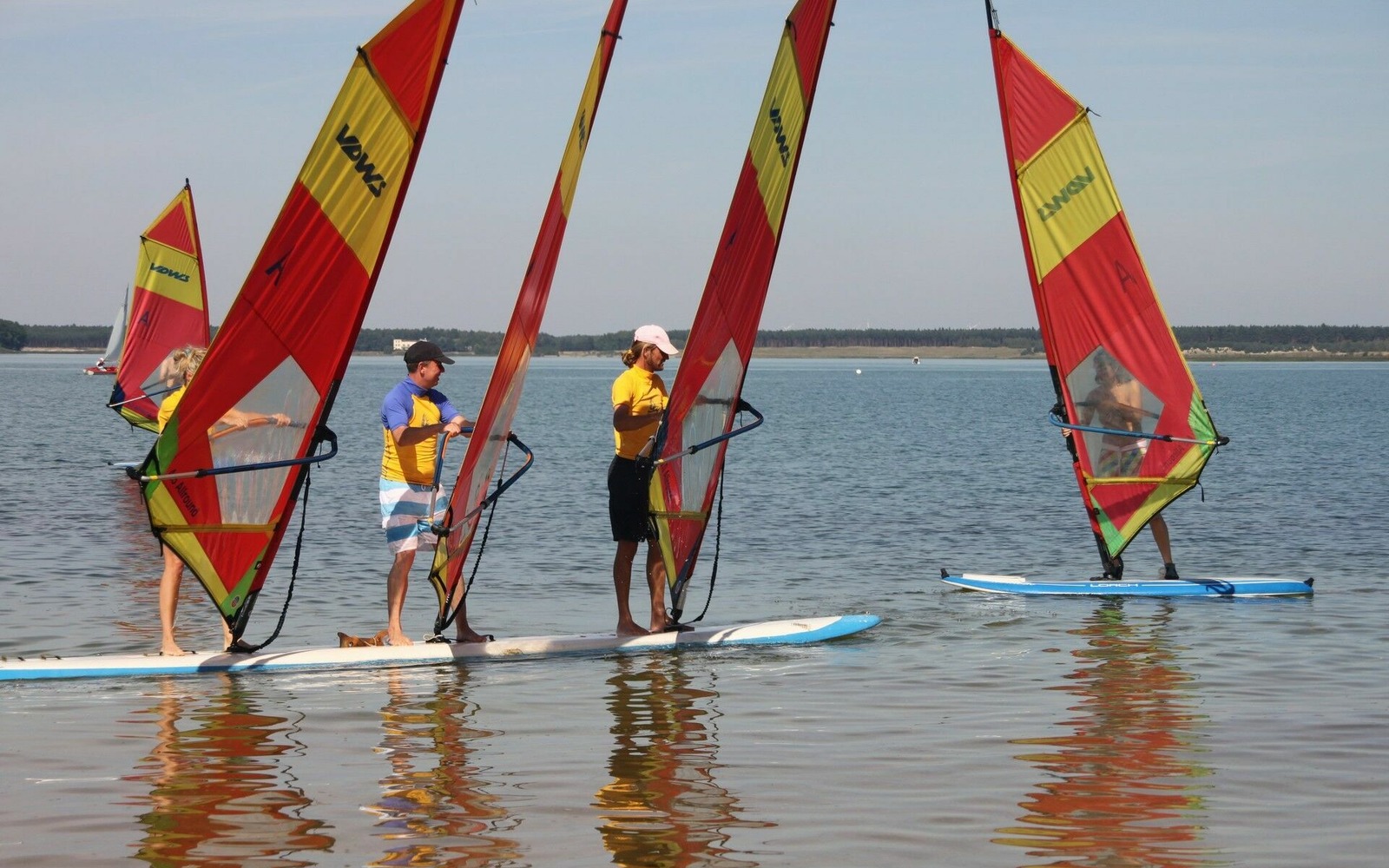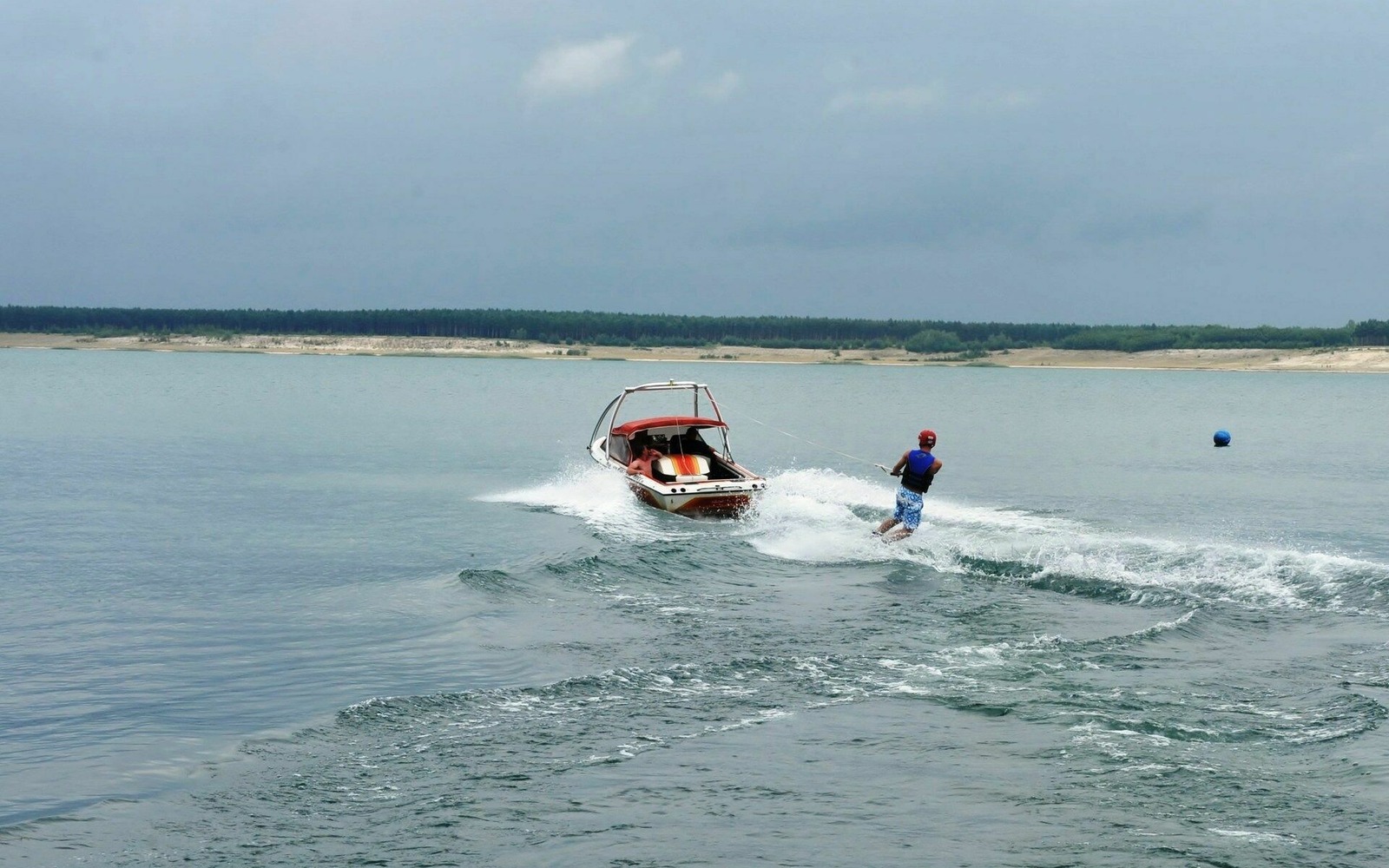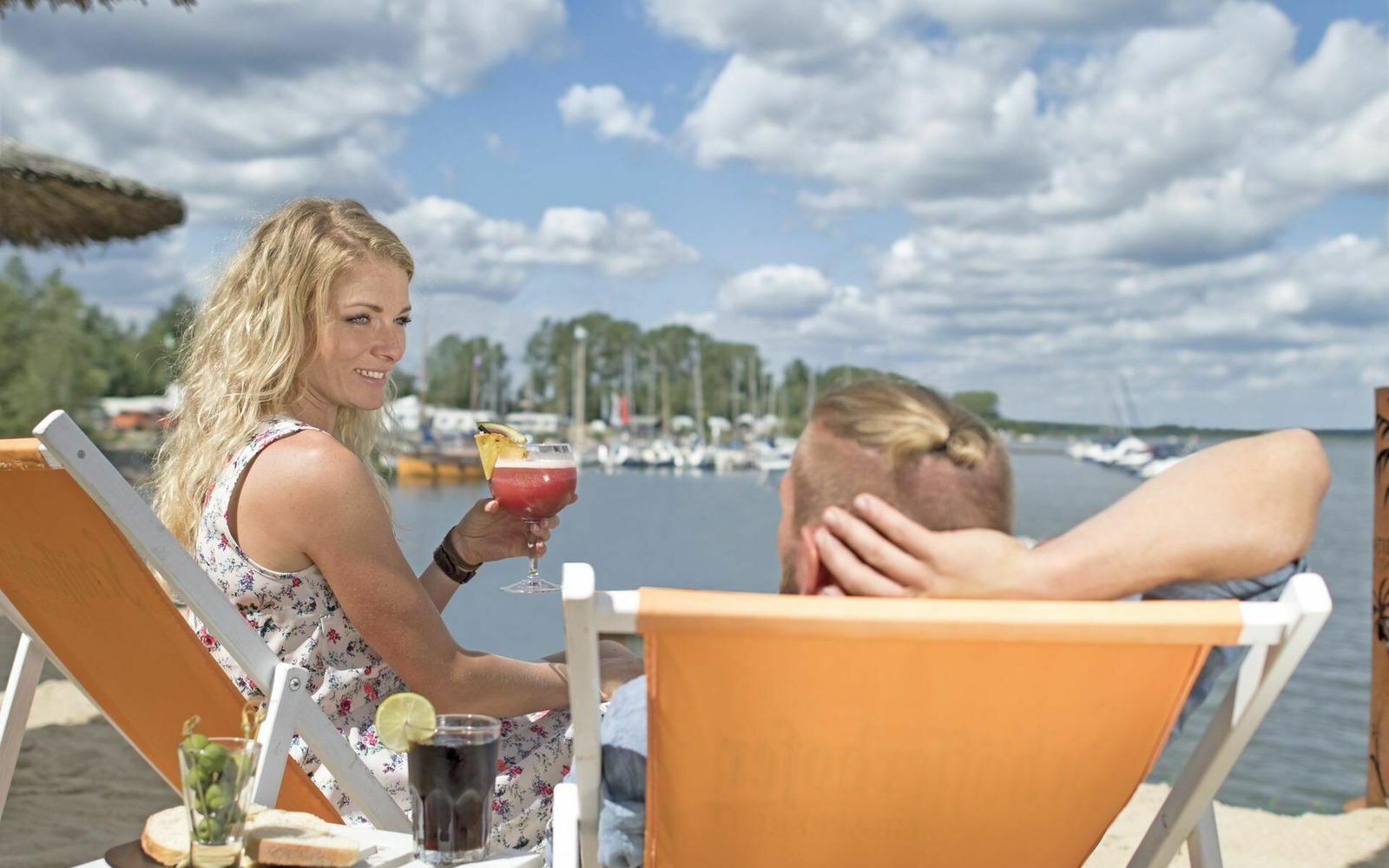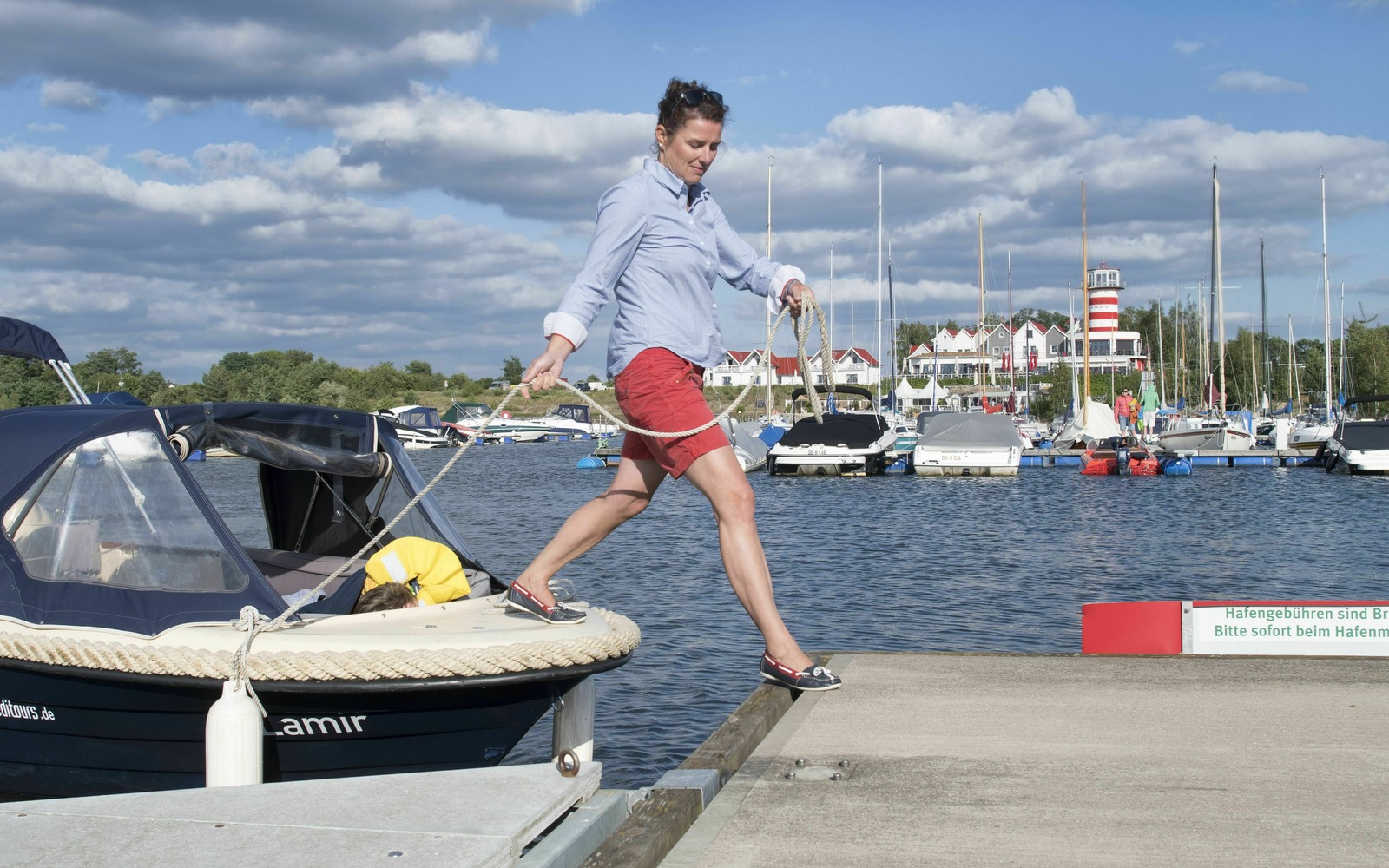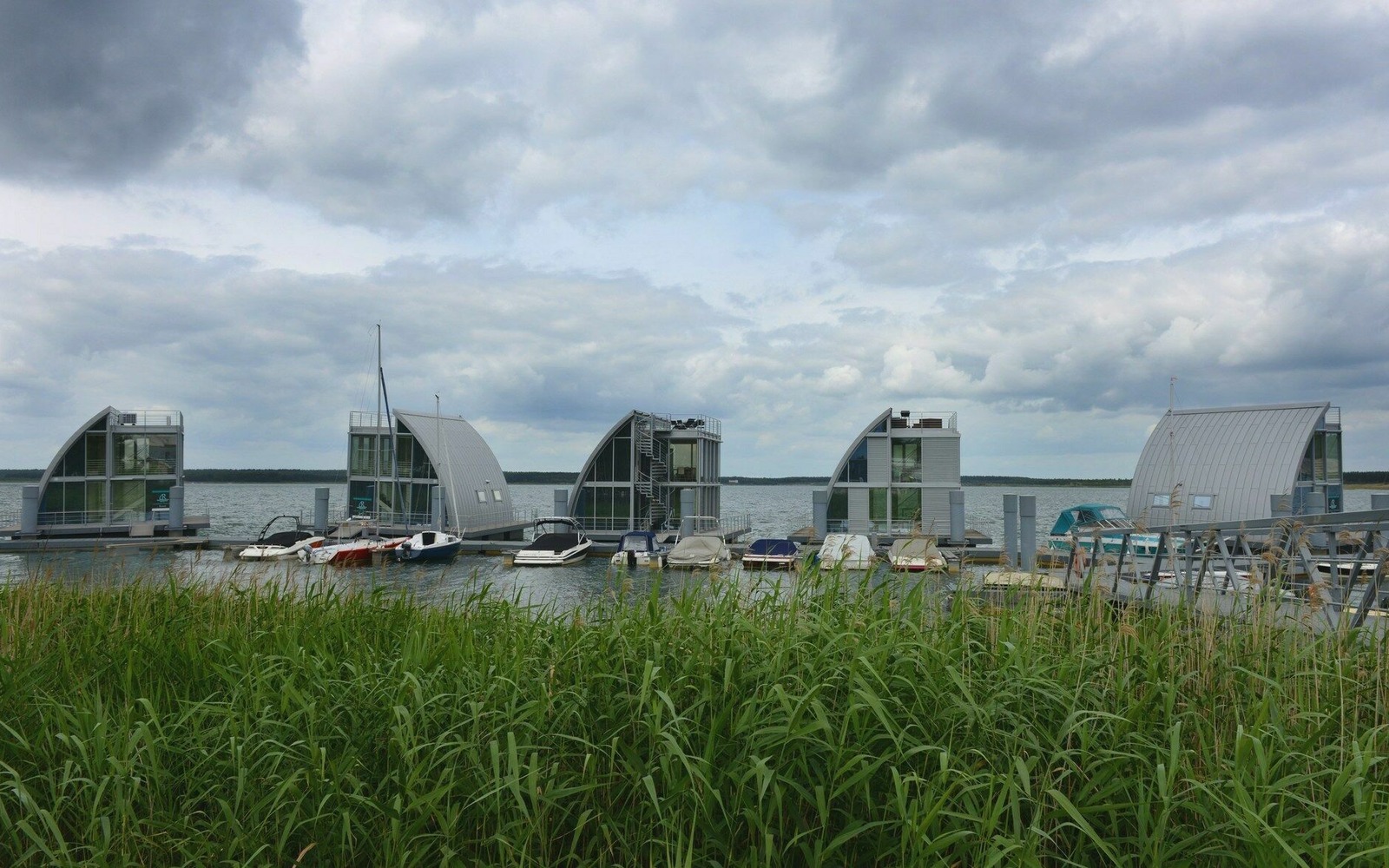 Water sports
Fishing, bathing, passenger shipping, motor boating, rafting (motorised)*, paddling, rowing, canoeing, stand-up paddling (SUP), (wind-, kite-) surfing*, sailing, pedal boating, wakeboarding, water skiing.
* Possibility given, but no rental or tourist offer at the lake.
Water tourism use is permitted from 01.04. to 31.10.
Swimming
The swimming beach at Lake Geierswalde is located next to the marina. The bathing water quality in Lake Geierswalde has been certified as excellent (in 2018, based on EU bathing water quality standards). During the season, the swimming beach is supervised at weekends and on public holidays.
Water sports providers
Boat hire OSTufer beach bar and water sports, SUP and pedal boat hire
CruiserCraft motorboat hire
Water skiing and wakeboarding at Wake and more
Event and training ship, SeaBreeze Entertainment Group
Reederei Löwa passenger cruises
Lusatian Lakeland Water Sports Association (1. Wassersportverein Lausitzer Seenland e.V.)
Harbours and marinas
On the south shore is the Geierswalder See water recreation area of the Lusatian Lakeland Saxony association with moorings, slipway and boat crane.
Contact Harbour master:  tel.: +49 (0) 152 - 04794534 (April - Oktober)
Service information
Sanitary facilities during the season in the service building on the beach
Barrier-free toilets are located at the service building of the municipality of Elsterheide directly at the jetty (April-October).
Parking at the swimming beach and at the water touring rest area
Wicker beach chair hire on the beach
Leisure facilities and activities
Beach volleyball court next to the swimming beach
16km asphalt loop trail around the lake, suitable for cycling, in-line skating and running
Food and drink around Lake Geierswalde
Accommodation and camping at Lake Geierswalde
Lighthouse hotel and holiday apartments
Floating holiday homes and beach houses by Open-Water-Resort Lausitz
Camping and caravan site Holiday and leisure park Geierswalde
Marina Camping Geierswalde Lake
Camping site Sun & Fun
Leisure home Haus am See of the EVJU e.V.
Seeblick Holiday Apartment & Pension
Further Information
For questions about the tourist offer
Touristinformation Hoyerswerda
Braugasse 1
02977 Hoyerswerda
Telefon: 03571-2096170
Fax: 03571-2096172
E-Mail: hoyerswerda@lausitzerseenland.de
Web: www.lausitzerseenland.de
For questions about boat access, navigation and use of the Lake Geierswalde 
Zweckverband Lausitzer Seenland Sachsen
Friedrichsstraße 12
02977 Hoyerswerda
Telefon: 03571–6054302
Fax: 03571–6076559
E-Mail: zvsachsen@zweckverband-lss.de
Web: www.zweckverband-lss.de
Diese Karte kann nicht von Google Maps geladen werden, da Sie in den Datenschutz- und Cookie-Einstellungen externen Inhalten nicht zugestimmt haben.