Cycle route around Lake Scheibe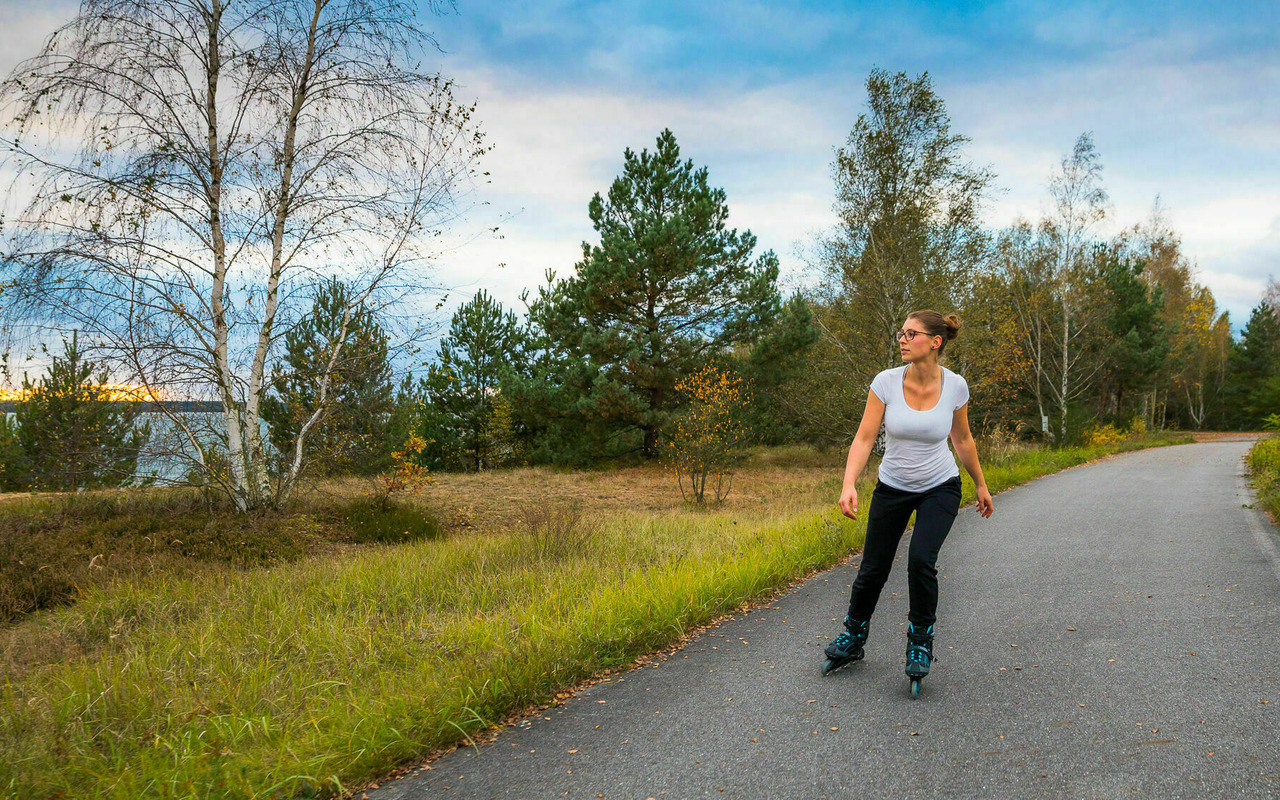 With its 12 kilometres of varied terrain Lake Scheibe is particularly popular with more ambitious cyclists. Some sections of the loop trail feature gradients and narrow bends, giving the course around Lake Scheibe a reputation as the most challenging route in the Lusatian Lakeland. The sand dunes and vegetation on the southern section of the route are a striking sight. The name of the lake derives from the former village of Scheibe, which had to make way for the open-cast mining.
Distance: 12 kilometres
Start/end (recommended): Hoyerswerda, on the western shore of Lake Scheibe
Parking: On the northern shore, at the rest area near the village of Burg; at the viewing point on the southern shore
Terrain: The circular route follows the asphalt loop around the lake. It is predominantly flat, but some sections have gradients.
Attractions along the route
Detour to Hoyerswerda (approx. 4.5 kilometres)
Food & drink: There are no refreshment options available, you will need to make your own provisions
Useful information for this route
Swimming beaches: At the western shore in Kühnicht, unsupervised
Scenic views: Several small rest areas around the lake, the most striking viewing point is on the southern shore
Public toilets: None
Playgrounds: None
Most of the loop trail around the lake is not shaded
The distance in kilometres is marked consistently along the loop trail, which is circular lake route no. 4
Linked circular lake routes: Lake Bernsteinsee (11km)
Tip: If you're tired of travelling on two wheels you can switch to four wheels here. The challenging track around Lake Scheibe is very popular with experienced in-line skaters.
Tour start
Parkplatz am Scheibe-See
02977 Hoyerswerda
Tour end
Parkplatz am Scheibe-See
02977 Hoyerswerda
Contact address
Braugasse 1
02977 Hoyerswerda
Diese Karte kann nicht von Google Maps geladen werden, da Sie in den Datenschutz- und Cookie-Einstellungen externen Inhalten nicht zugestimmt haben.