Spremberg dam and reservoir
Dense forest, lush greenery, marshland and water shape the landscape around Spremberg reservoir. The lake, created by the only river dam in the state of Brandenburg, is a great place for enjoying peace and tranquillity in the great outdoors. The reservoir is situated in a conservation area and is a roosting place as well as a breeding and feeding ground for many bird species, including ospreys and black storks.
It is also ideal for swimming, fishing, sailing and rowing. Further sports and leisure activities such as miniature golf, table tennis, football and volleyball as well as playgrounds complement the varied tourism offering. The water festival in June is an annual highlight and features a dragon boat race as its headline attraction.
There is much to explore around the lake – on foot, on in-line skates or by bike. And if you don't have your own on hand, you can hire a bike nearby.
Spremberg dam was constructed on the Spree river between 1958 and 1965. The water build-up behind the dam formed Spremberg reservoir. In addition to its function as a leisure destination, the lake is also used to regulate regional water supply.
Facts and figures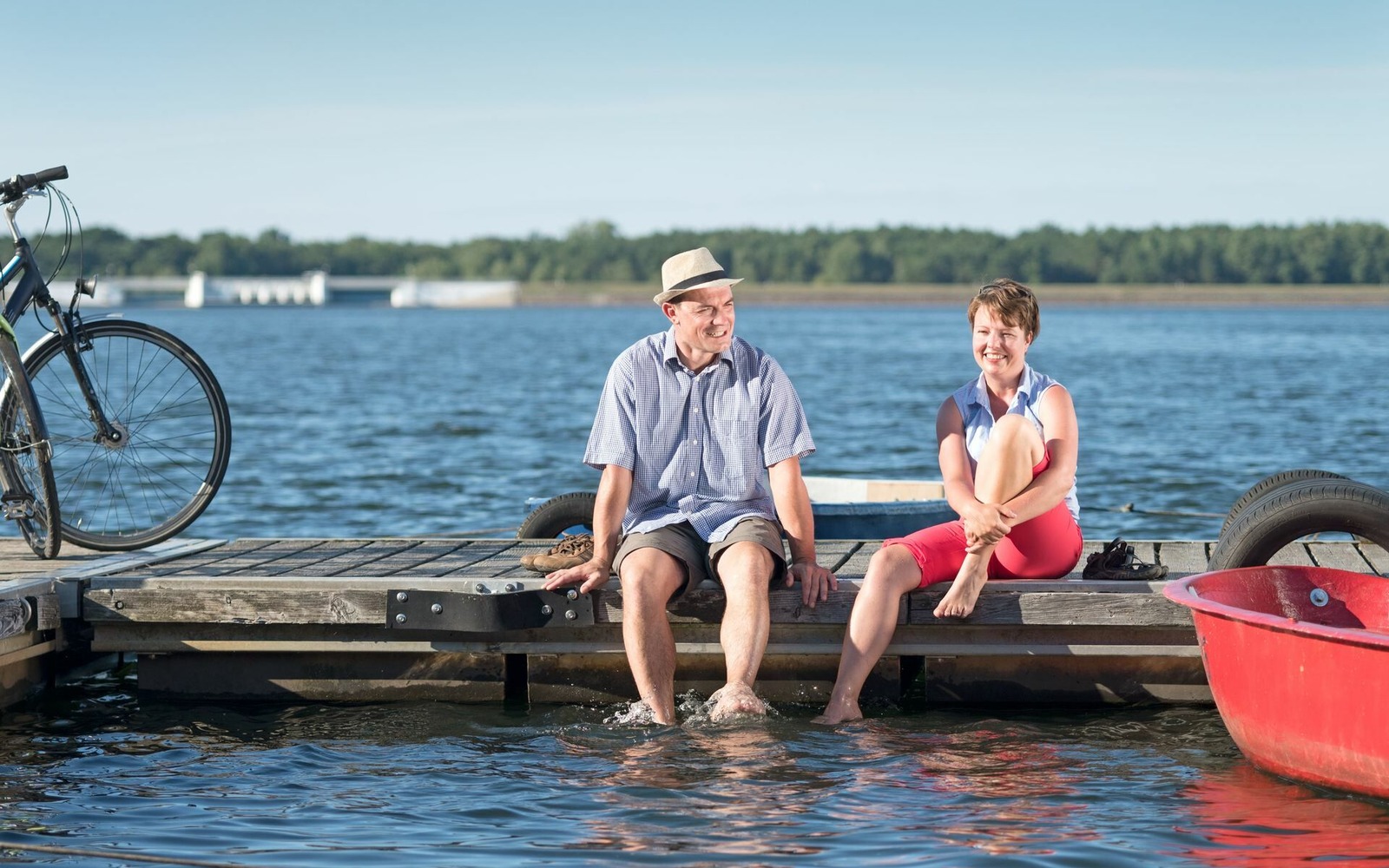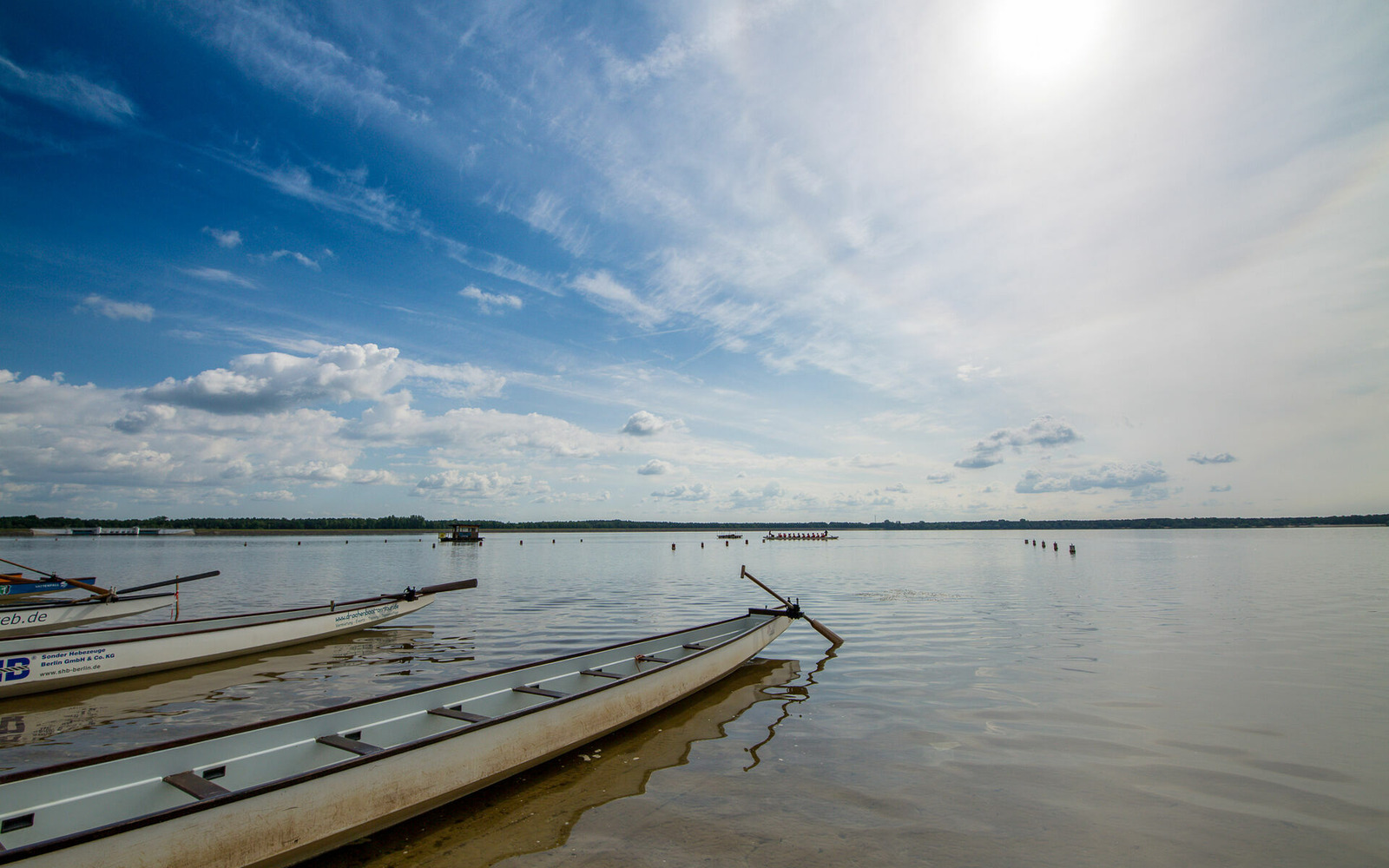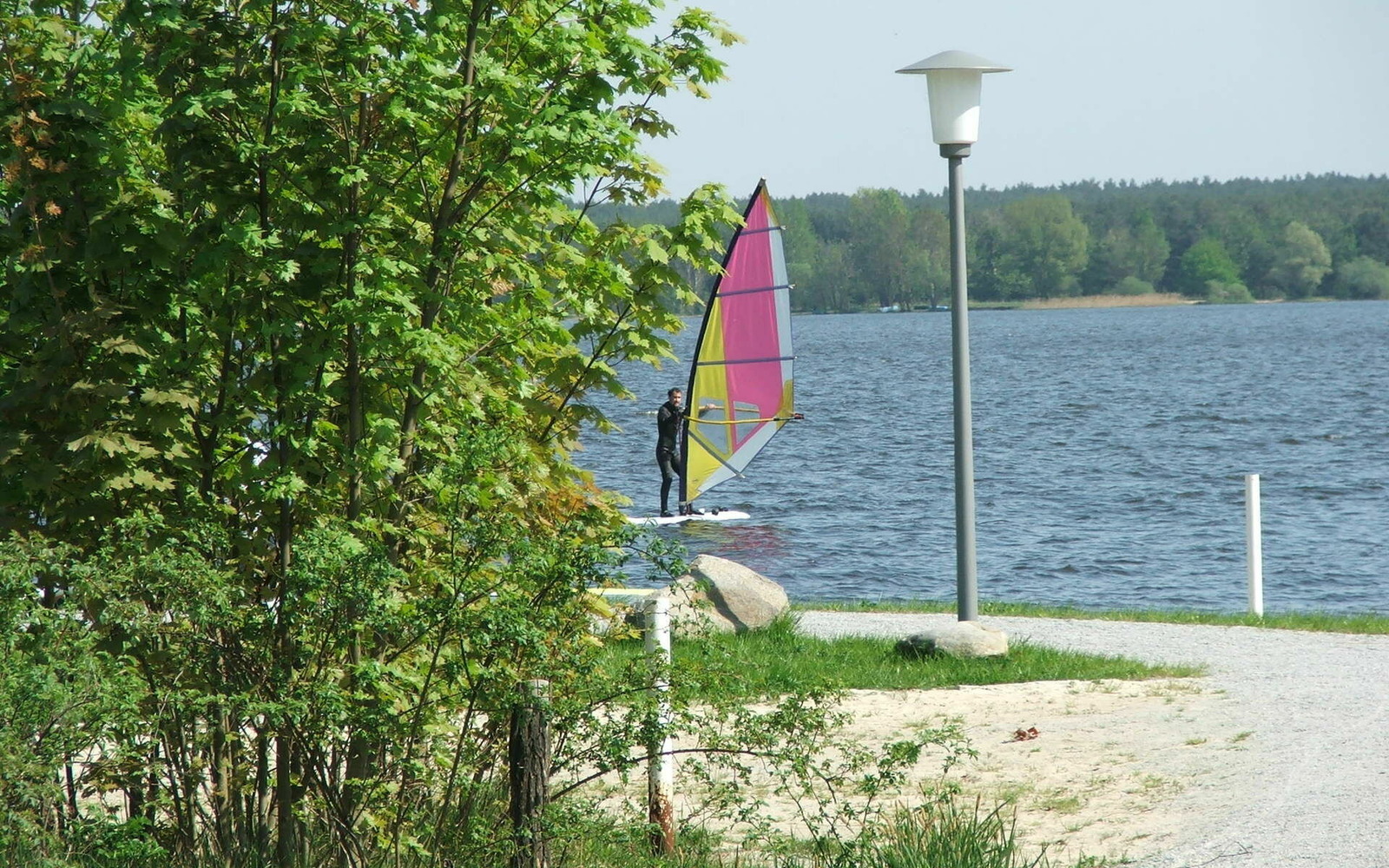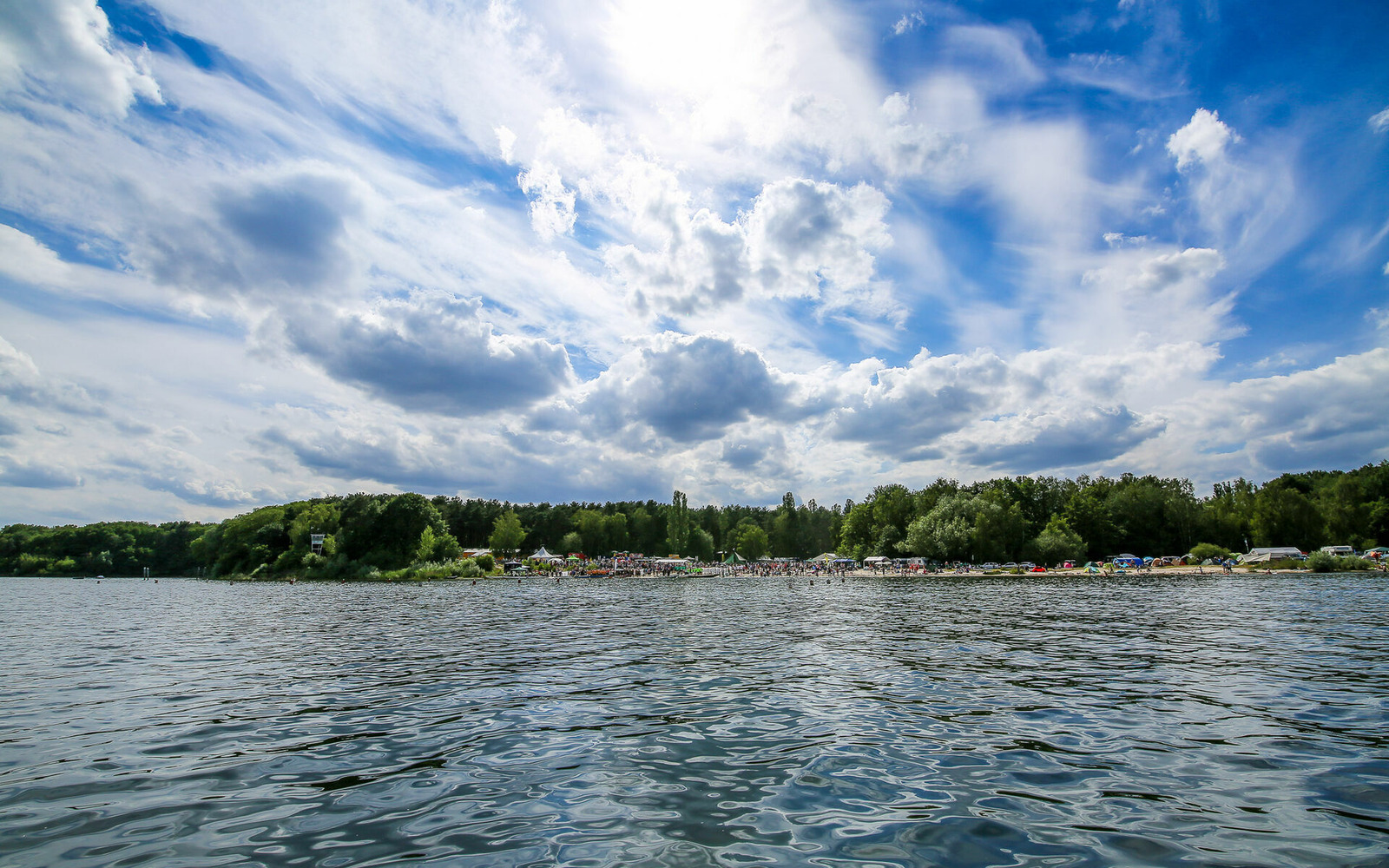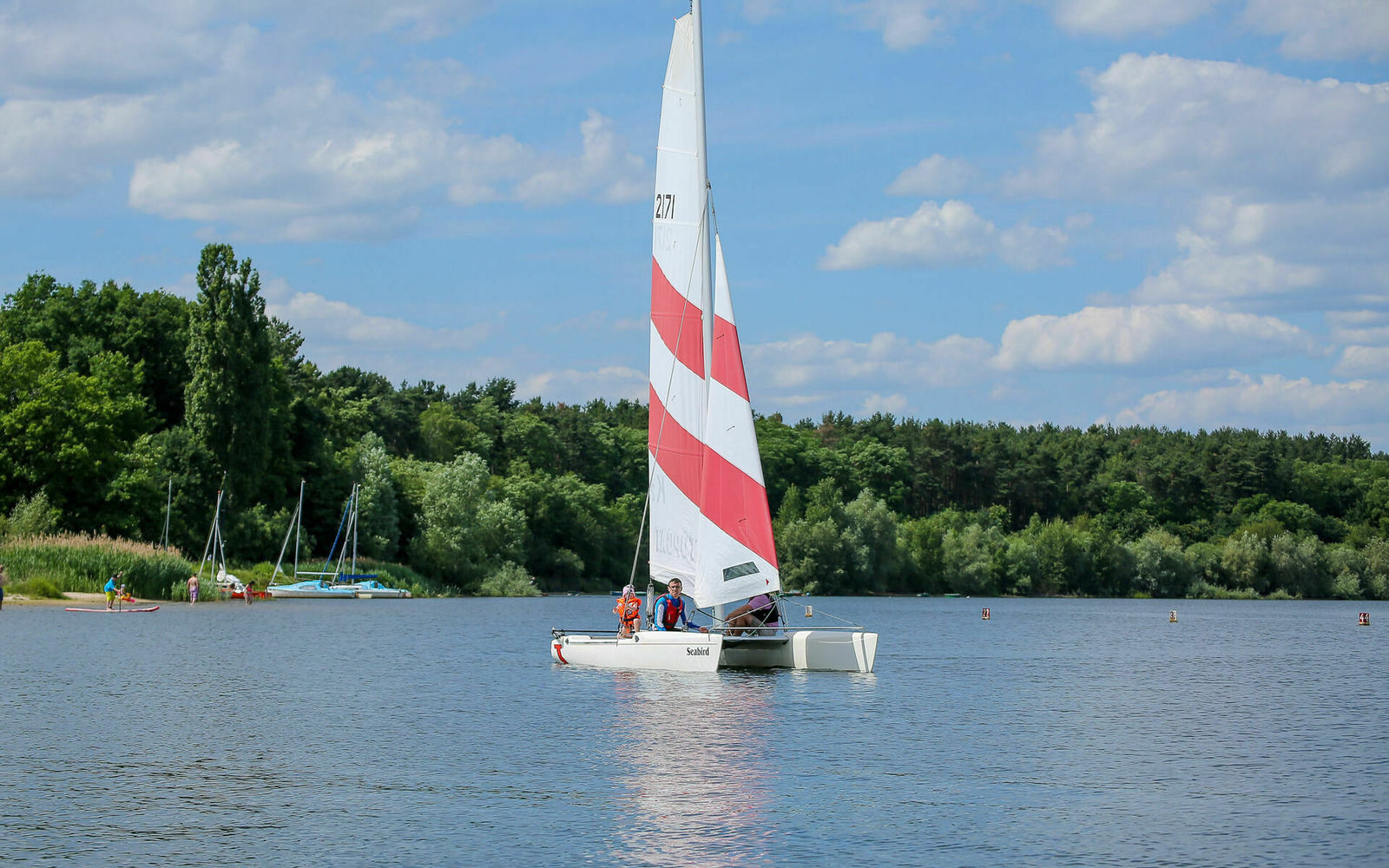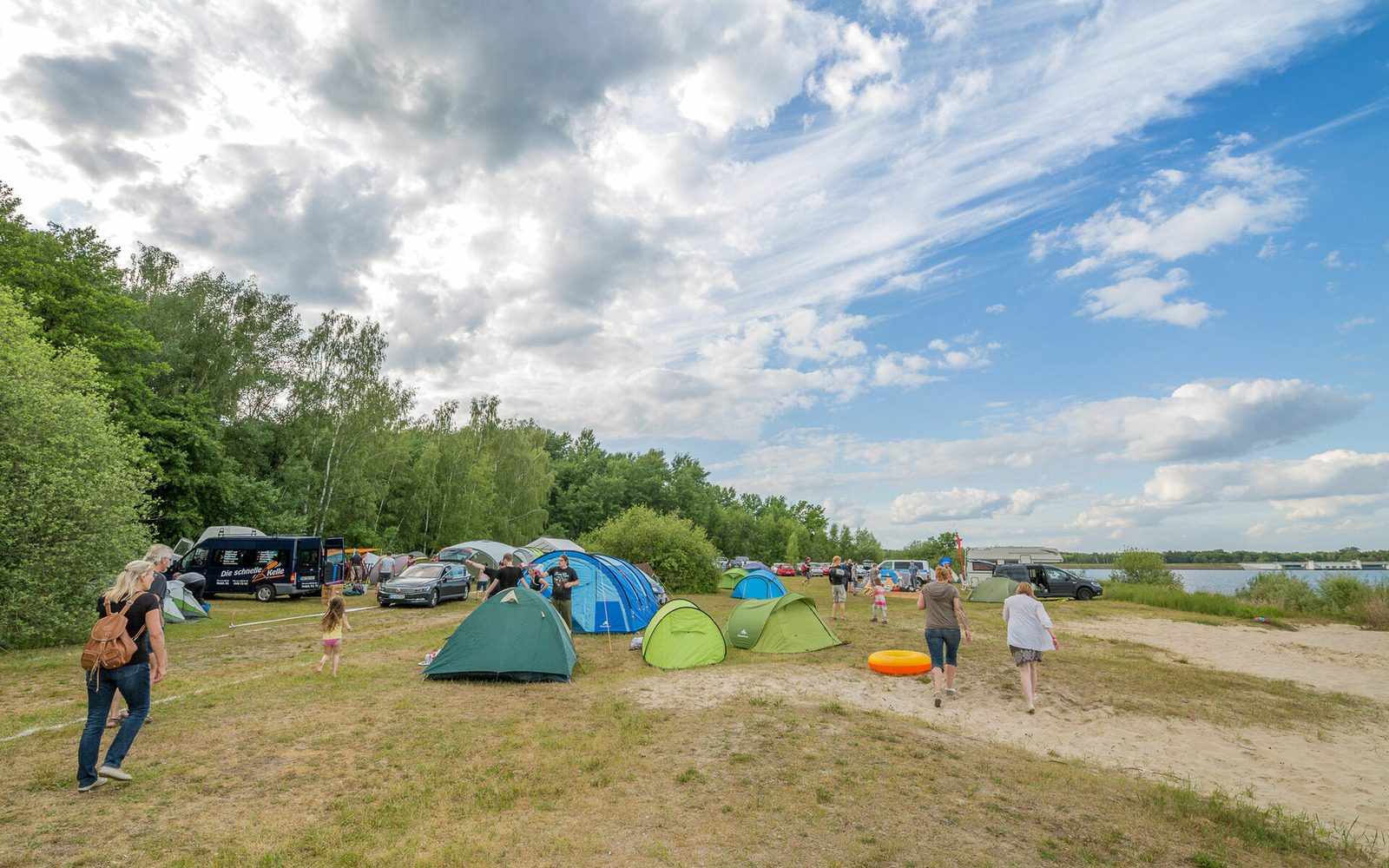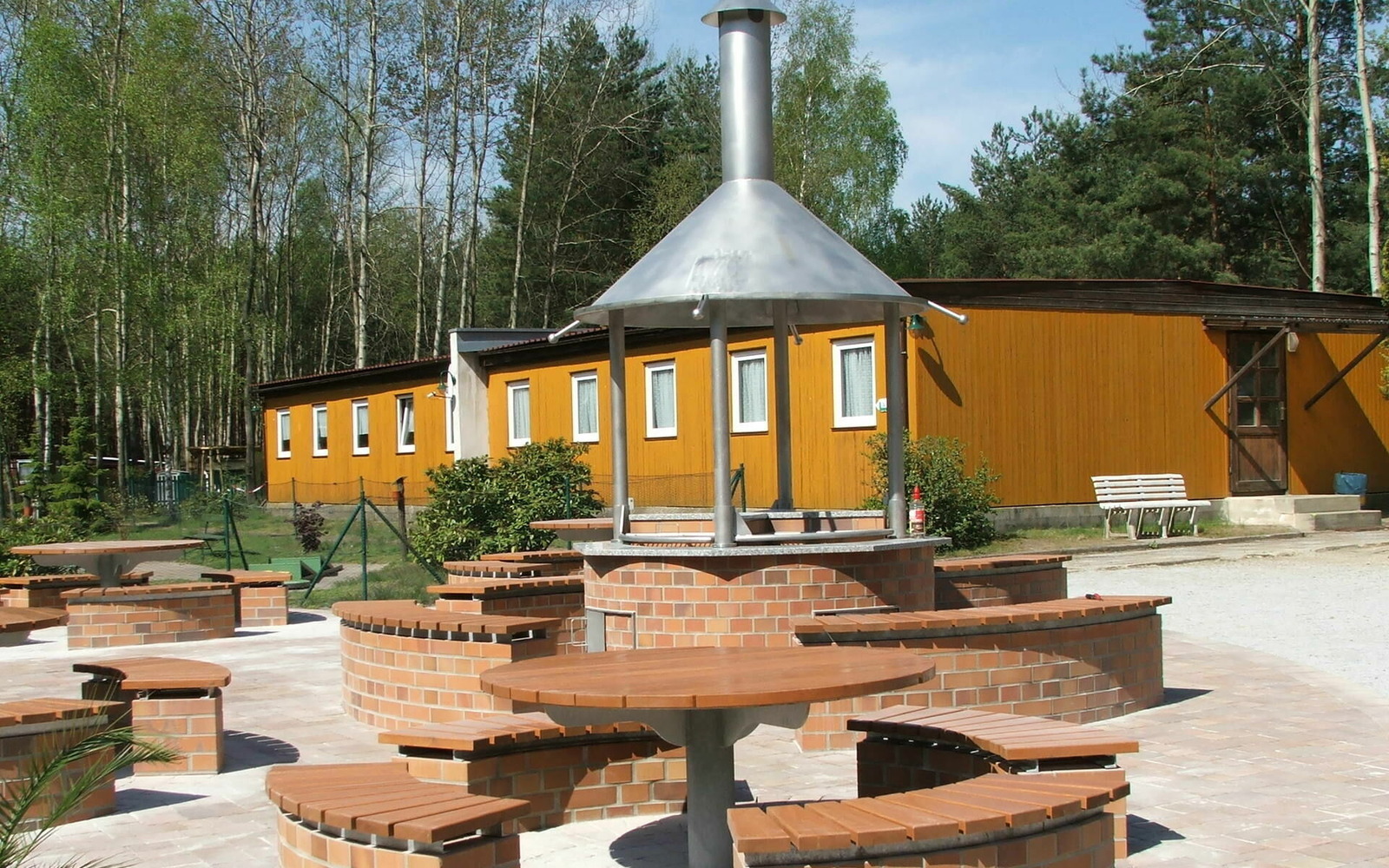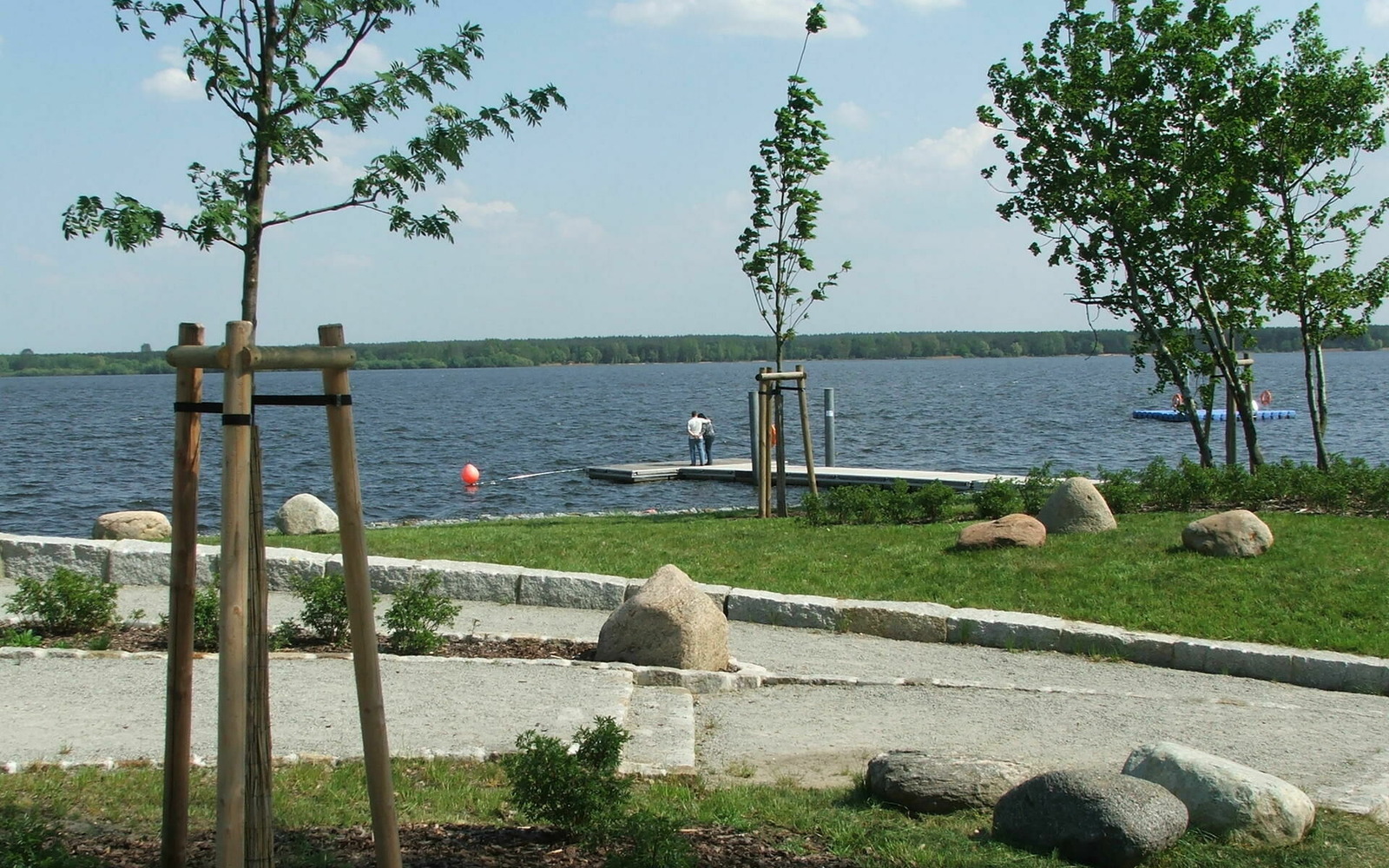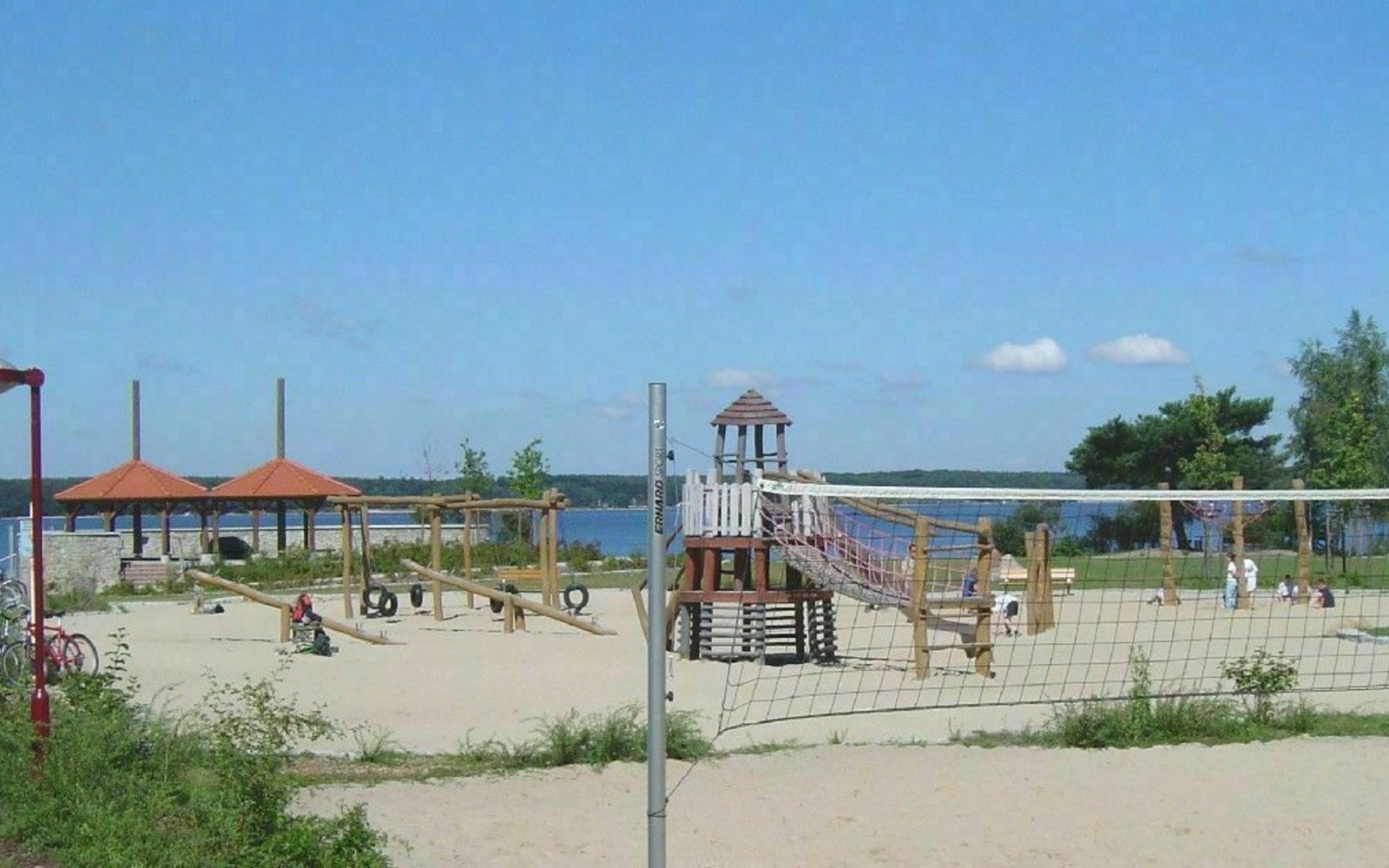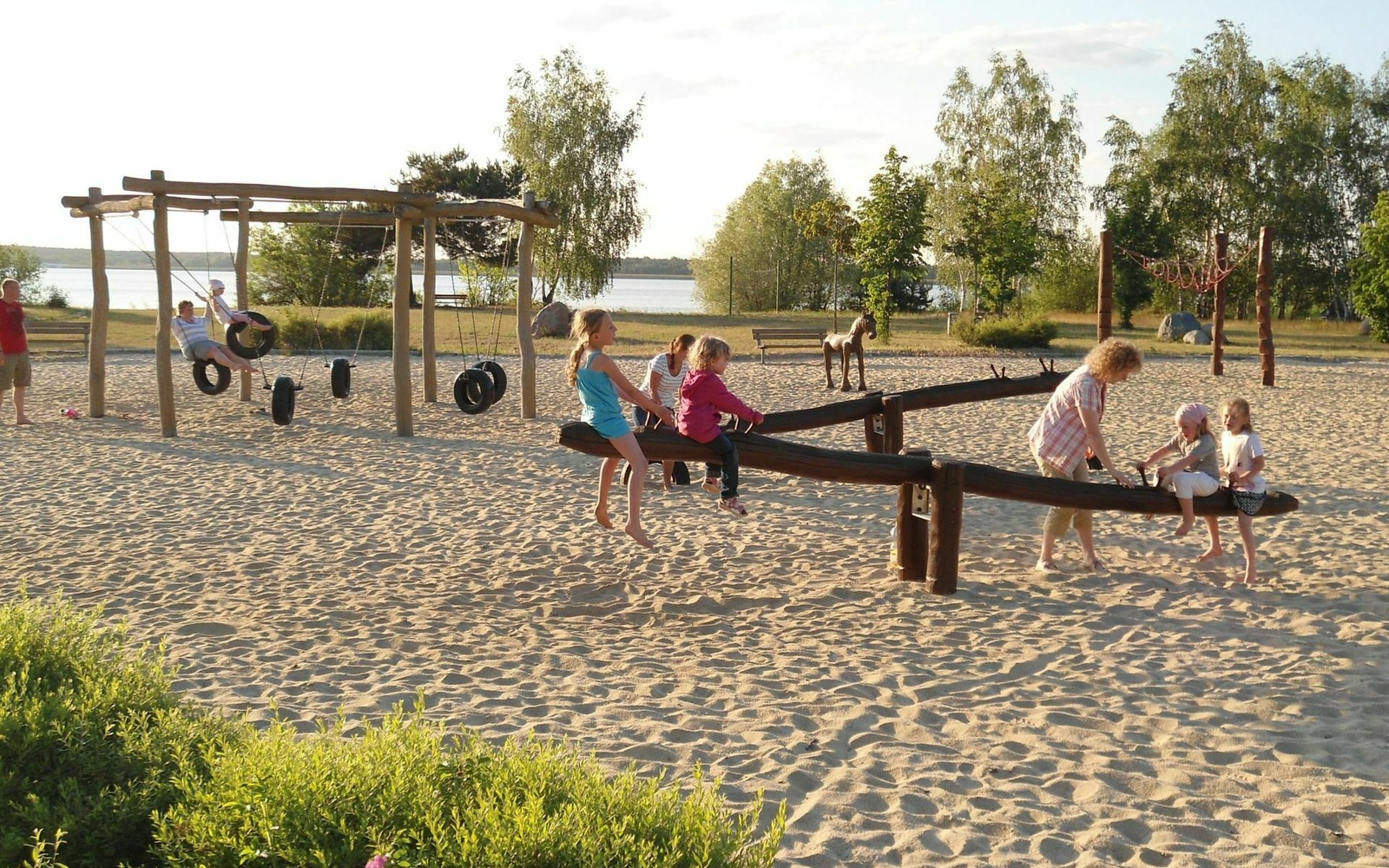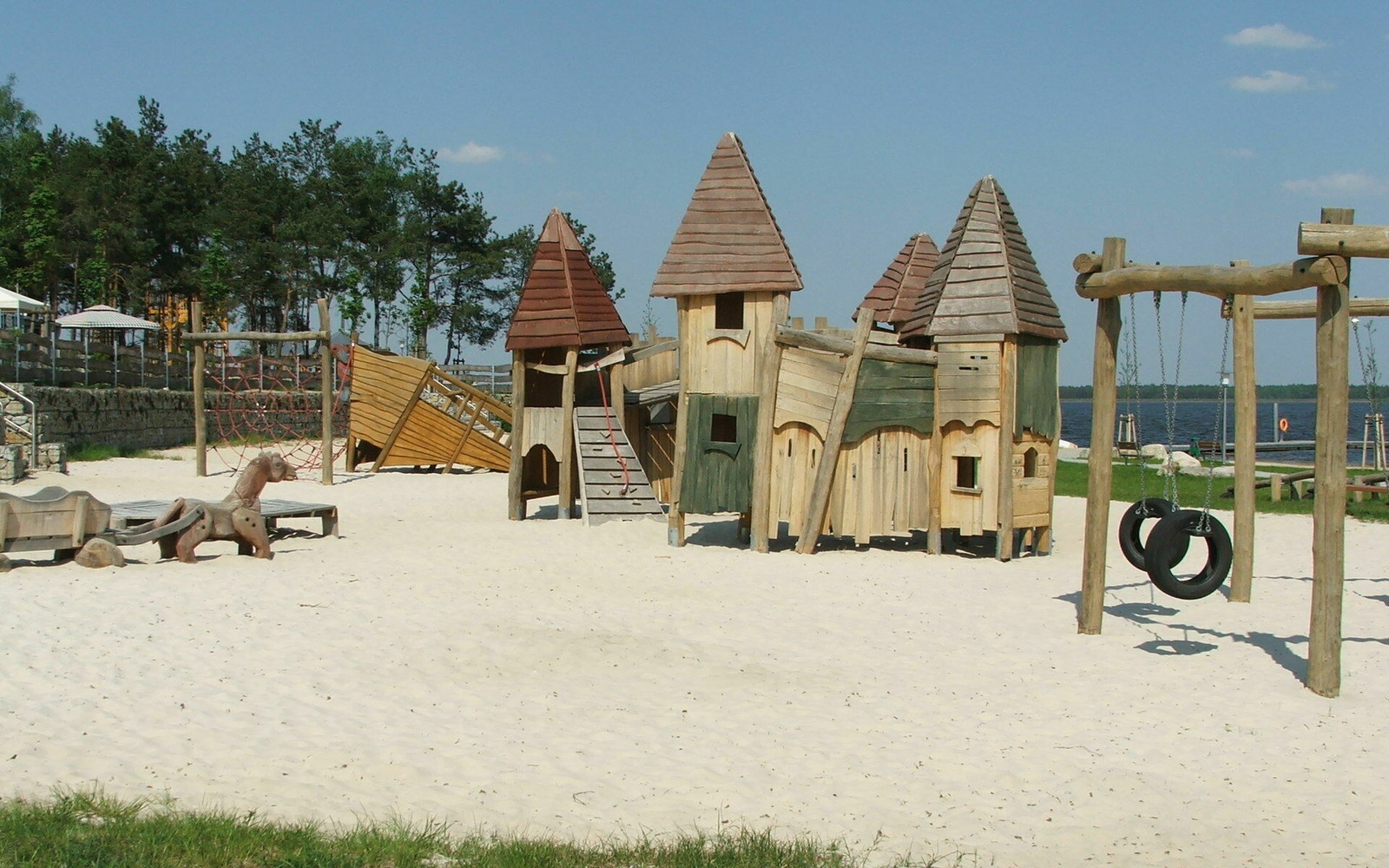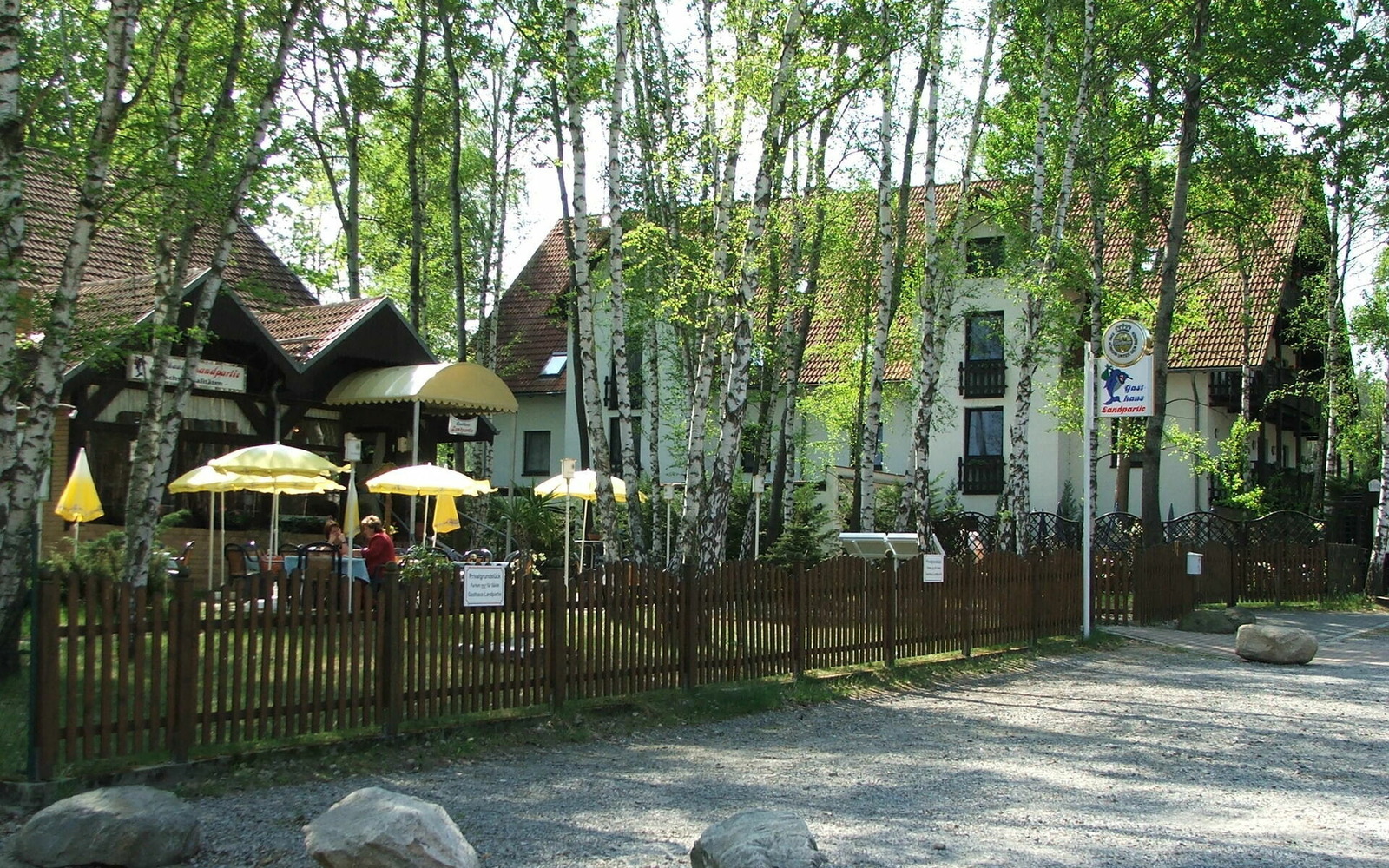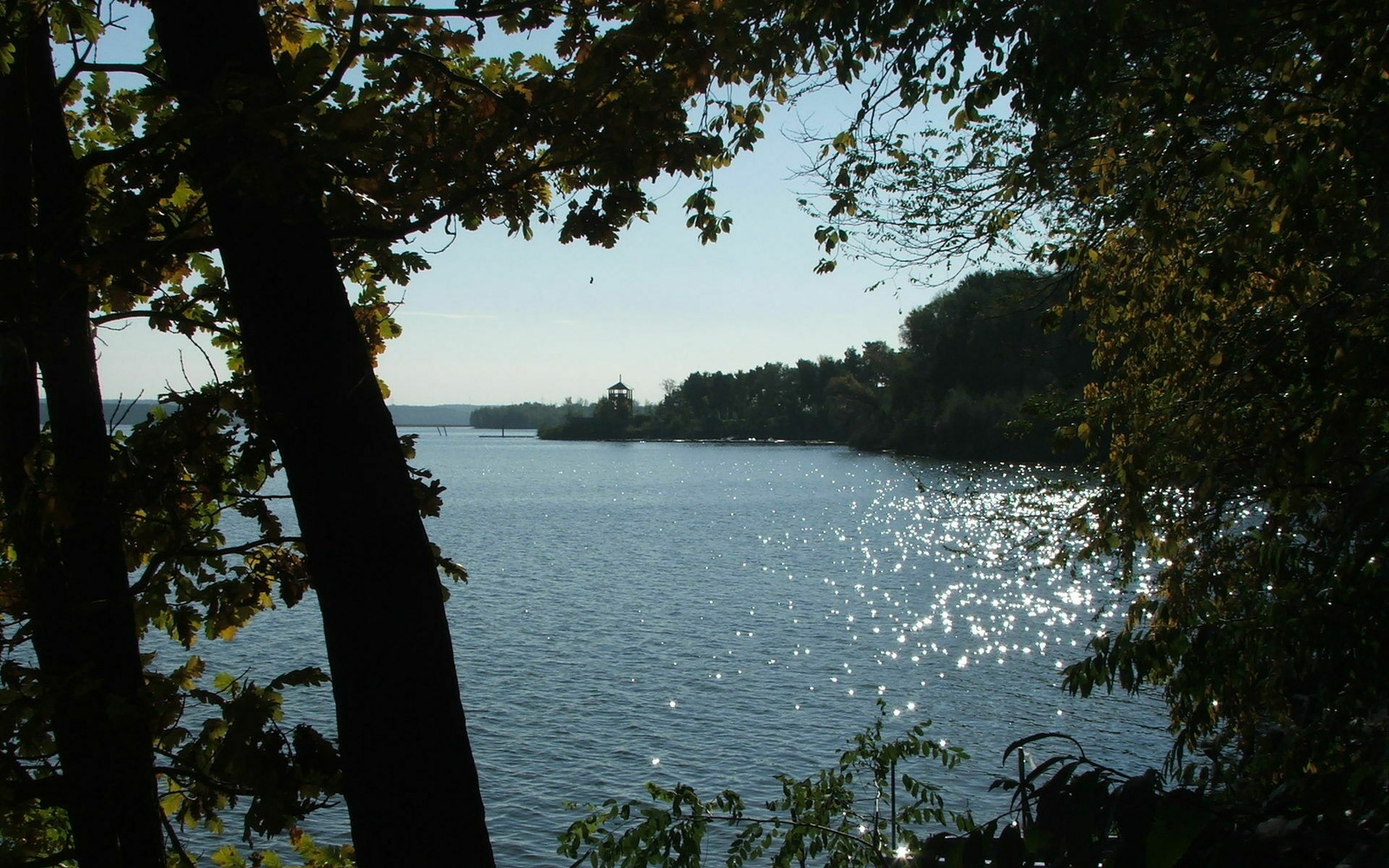 Water sports
Fishing, swimming, canoeing/kayaking, sailing, windsurfing, non-motorised water sports
Water tourism activities are permitted between 1 April and 15 October.
Swimming
There are two long sandy beaches that are suitable for swimming – one in Bagenz on the eastern shore, the other in Klein Döbbern on the western shore. There are separate, designated beach sections for nudists and for visitors with dogs. The lake offers various leisure facilities, including a floating platform for swimmers and jetties for swimmers and boats. The water quality of the lake is excellent. The beaches are not supervised.
Water sports providers
Flossurlaub.de on the beach in Klein Döbbern offers a raft hire service and fishing tours
Reservoir house on the beach in Klein Döbbern, boat hire (fishing punt, kayak, pedal boat and SUP boards)
Spremberg Rot-Weiss e.V. sailing club
Service information
Parking available (charges apply in the summer)
Sanitary facilities are available (charges apply)
Leisure facilities and activities
Playgrounds, barbecue and campfire areas on the dam
Miniature golf, table tennis, football, beach volleyball, basketball, playground and bicycle hire in Klein Döbbern
"Prima Abenteuer"
Bagenz Hiking Llamas
19 km loop trail around the lake, suitable for cycling and in-line skating
Bicycles and in-line skates can be hired at Tourismus-Oase in Klein Döbbern
Viewing tower in Klein Döbbern
Wasserfestspiele (water festival) in Neuhausen/Spree in June with a dragon boat race and a fireworks display
Gastronomy directly at the Spremberg dam
Hotel and Restaurant Waldhütte in Klein Döbbern
Volkers Einkehr - snack bar and ice cream shop on the north beach in Klein Döbbern
Beach bar (café and snack bar)
Gasthaus and Pension "Zum Dorfkrug" in the village of Bagenz, 1 km away
Sailor's Cologne
Café Jäck Valentin in Sellessen
Accommodation and camping at the Spremberg Dam
Camping sites of the SpreeCamp Betriebsgesellschaft mbH in Bagenz and Klein Döbbern
Hotel and Restaurant Waldhütte in Klein Döbbern
Reservoir house in Klein Döbbern
Guesthouse and Pension "Zum Dorfkrug" in Bagenz
Holiday cottages Müller in Bagenz
Pension by the forest in Bagenz
Adventure Lusatia (self-catering) in Bagenz
Mechlers Stuben in Sellessen
Holiday flat Heike and Ina in Sellessen
Further Information
Touristinformation Spremberg
Am Markt 5
03130 Spremberg
Telefon: 03563-5900656
E-Mail: info@touristinfo-spremberg.de
Web: www.touristinfo-spremberg.de
Diese Karte kann nicht von Google Maps geladen werden, da Sie in den Datenschutz- und Cookie-Einstellungen externen Inhalten nicht zugestimmt haben.